How to Make a Real Estate App Like Zillow?
Updated on May 28th, 2021
In today's digital world, one cannot imagine surviving without an effective and feature-rich mobile app. From education to retail, and even healthcare, everything is going mobile, and so is the case with real estate. Today, real estate apps have gained immense momentum in the global market, and all thanks to their robust and user-friendly functionalities. One such real estate app that has much attracted the realtors and common public is Zillow. 
Zillow is a popular real estate platform that has been gaining public attention for quite some time now. It is a robust real estate app that offers the true value of the property, past sales price, nearby areas, and so on. Apart from that, the users can even get the true value of their residential and commercial properties with time, which becomes profitable when they are planning to move out. 
According to research, Zillow has more than 160 million monthly active users, with over 200 home views per second. Furthermore, almost 80% of US homes are on Zillow. A recent study by Statista also unveils that Zillow has been the top most popular website in January 2020 according to the number of unique visitors! All in all, Zillow is the best real estate app that is present in the current real estate scenario. Hence, if you are planning to make a real estate app, then Zillow should be your first preference. That's why, today, we have brought you a complete guide on how to create an app like Zillow. 
So, without wasting much of your time, let's quickly cut to the chase! But, first things first.
What are the Benefits of Building a Real Estate App Like Zillow?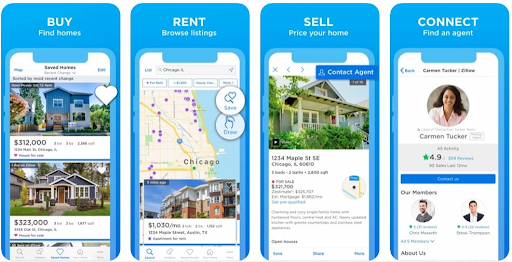 A real estate mobile app not only benefits the realtor but also helps the customer and the agents in a profitable way. Let us share some of the benefits for each of the above-mentioned categories! 
For Seller
The first and foremost benefit of having a real estate app is personalized offers. We all know that everyone today likes to get personalized offers and discounts. And by investing in real estate app development, you could not only better evaluate your buyers but can also offer them personalized discounts that cannot be resisted! 
As a seller, advertising your property on different platforms might seem a tedious task to you! However, what if you get a dedicated marketing platform within your mobile app? Yes, you heard it right!
With a dedicated real estate app like Zillow, you can seamlessly market your property with great details and pictures, to get more loyal customers and a great price. With high-quality pictures and detailed descriptions, the chances of getting great offers increase exponentially!
Another vital benefit of having a real estate app is smooth and effective communication. Often it is seen that the sellers and the buyers do not get an efficient platform to interact with each other. That might be because of the intervention of agents, or due to poor communication channels.
However, with a real estate app, things are much different and better! As a seller, you can easily get all the information that your buyer is looking for. Not only that, but you can even communicate with the buyers directly to increase transparency and mitigate miscommunication issues. 
Effective Customer Search
Searching the buyers and that too the verified ones might be a bit tedious. However, with a real estate app like Zillow, that problem could easily be solved! A real estate app not only helps you find the perfect buyers but even provides you the detailed analytics of what they are looking for! That further helps you target them with such personalized offers that they cannot deny.  
Last but not least, we have better targeting. Now, a common problem that sellers often face is targeting people within their geolocations. Furthermore, if the seller wants to target people from another region, then also they have to search a lot! 
However, with a real estate app like Zillow, you can seamlessly target the right people with the right kind of offers to convert them into buyers. Moreover, you can even set your target locations to target buyers from your preferred areas! 
For Buyers
What is more beneficial for buyers than finding the perfect property while sitting at home? Yes, you heard it right! Today, with a dedicated real estate app like Zillow, the buyers today can search and look for thousands of properties, at their favorite geographical locations!
Not only that, but they can even interact with the sellers and agents via call and messages while using the mobile app! Before that, only the agencies and agents were knowing what all properties are for sale. 
That's one of the significant aspects of a buyer. It is often seen that while investing in any property, the buyers get concerned with whether the seller is verified and reliable or not?
However, with the introduction of a real estate app, it is now possible to verify the sellers. With the right feedback and reviews, the buyers can now analyze whether the seller or agent is reliable or not! Not only that but with pictures and videos, you can even know the present condition and true value of the property.
As discussed earlier in this article, communication is the key to a successful relationship and a profitable deal in the real estate market! That holds true even for the buyers. While searching for property and analyzing one, if you have direct interaction with the buyer, then you can get much of the information.
That information will not only cover the property details but would even get you detailed analytics of the nearby areas so that you can make a better purchase decision.  
Last but not least, a brilliant feature of the real estate app is geolocation. With the geolocation feature, the buyers could seamlessly meet the targeted sellers within their preferred area. That said, even if someone is looking for rental properties, then they can set their preferred location, and the type and the real estate app will display the matching results! 
For Agents
When it comes to advertising your brand, then many of the agents might feel this a tedious task. Reason? That's because advertising your app on different platforms is a bit complex task and may require a proper strategy for each one of the platforms. 
However, with a dedicated real estate app, you may not have to worry about all such things! A dedicated app offers you a result-oriented marketing platform so that you can reach more customers and grow your brand value in less effort!  
As mentioned above, with a dedicated real estate app, you could seamlessly market your brand amongst larger audiences. Likewise, with personalized services, you can seamlessly target new customers and could even entice the existing ones. The app offers you detailed customer analytics so that you can offer them personalized discounts and deals, the ones that they cannot refuse! 
Having advanced user analytics not only helps you build your brand value but even helps you retain your existing customers and attract new ones. With advanced user details, you could know what your target audience is searching for, and what key values attract them the most! That will help you frame your offers and eventually turn the prospects into valuable customers.
Last but not least, with better-personalized offers, and detailed user analytics, there is no doubt that your customers would increase significantly. That being said, with a greater number of successful deals, the result would obviously be better sales and more profits! 
How to Create a Successful Real Estate App?
Now that you are aware of the present success and benefits of the Zillow app, let us quickly discuss some vital factors that are to be considered while investing in real estate app development!
1. Validate your App Idea
The first and foremost step in building an efficient real estate mobile app is to validate your app idea with an expert. Why is it necessary? Well, the answer is quite simple! An expert consultant knows very well what is trending in the market, and what's the scope of your app idea in satisfying the present requirements of the users. 
Moreover, an expert could even provide you an out-of-the-box idea that can be sufficient to outgrow your competitors and build your brand name in the market! 
Apart from that, you will also be needing a real estate app type that you will be investing in, before initiating the development process. For your ease, here we have provided the popular types of real estate apps that are presently trending in the global market.
As the name suggests, the agency type app is for those, who have their own real estate agencies. They list all the houses under their name, and they even have dedicated agents who work for them. 
With an agency app, the brands can analyze their business growth, how many users are engaging with their brand, and what are the new market trends in the real estate industry! All in all, this type of app serves as a business tool that helps the brands to manage and improve their operations. 
The second category is the third-party model. This type of real estate app is profitable under conditions when you are working as a mediator between an agent and the customer. Under this approach, the users can sign-up as a buyer, seller, or agent. 
The agents can upload their listings, and the buyer can seamlessly contact them for details and other offers. Furthermore, the sellers can even contact the agents for the property they want to sell. All in all, the third-part real estate app serves as a platform for bridging the gap between the agent and the buyers/sellers.
2. Finalize a Business Model
Once you have validated your app idea and consulted with an expert, it is now time to strategize a perfect business model. Now, it is not questionable that your real estate app will generate whopping revenues in the coming time. But, it is also a known fact that nearly every app needs a monetization strategy to generate revenues in the starting period. That's here a perfect business model comes to play!
Even the ideal app Zillow has their monetization model. Here's how Zillow makes money!
Paid advertisement is one of the most effective ways of making money through your real estate app. Under this type of monetization model, you can offer other brands of different industries to run their ads on your app. In return, you can charge a fee for every ad they run, depending on the type and duration of the ad. 
 Another common yet promising type of business model for your real estate app is through marketing techniques. That means you can offer your app as a marketing platform for the real estate agents to advertise and market their brand. That in turn, will not only increase your revenues, but will even help you attract a larger number of agents on your real estate app. 
Lastly, we have premium subscriptions plans for the users of the app, whether buyers, sellers, or agents. With a paid membership, you users can get deeper insights into the market, and exclusive offers and discounts that cannot be denied.
3. Don't Forget the Features
Features are the most crucial part of any kind of mobile application, and real estate app is no exception. While building a successful real estate application, you must consider some exceptional features to outgrow your competitors and build success for your brand. To help you out, here we have listed some features that you can consider adding in your real estate app.
Admin Panel
A centralized dashboard to manage the complete system and configure different services with just a click or tap. 
Helps you manage different properties under different geolocations at the same time, without any hassle.
You can manage different users like buyers, sellers, agents seamlessly with their complete details and transactions. 
Lets you handle the process from lead capture to closing using a lead management system, and even handle every customer within the complete sales cycle.
You can keep a track of your total earnings from different users, and through different modes of advertising your app. 
Whenever a user subscribes to your app, you will get a real-time notification, and you can even manage all of his/her activities. 
Offers you detailed and customized reports over your critical business operations so that you can know what all things need updates. It even offers the trending market updates directly with a tap on your smartphone. 
User Panel
The buyers can discover trending properties of their selected area with just one tap on their smartphone.
Besides their preferred location, if they want to check other properties at some other location, then they can do so with this feature. 
The sellers could sell or rent their properties seamlessly using your real estate app, and can even upload videos and pictures of their properties. 
The users can get information about an agent to communicate and enquire about the desired property.
It calculates worth, down payment, loan EMI's, and tax of a property with an in-built smart calculator.
The buyers or agents can directly contact the seller for detailed discussion or solving their queries. 
Last but not least, the users can instantly solve any doubts or problems with an effective customer support feature. 
Agent Panel
The agents can keep a track of all the properties in their area that are listed for sell, or rent.
Using this feature, the agents can get all the inquiries of the buyers that are either looking to buy a house, or tenants that want to rent a house. 
The agents can manage responses to queries made about properties by prospective buyers or sellers.
You can directly calculate the brokerage fee of various properties and deals using this smart calculator. 
Similar to the admins, the agents can also keep a track of their total earnings made from different sources. 
Agents can get real-time notifications about leads when a buyer shows interest in a property.
Last but not least, the agents can stay connected with the buyers and sellers whenever they want using this functionality. 
4. UI/UX is Important
It is no surprise that user-friendliness has become one of the most crucial aspects in the mobile app development market. Even if you have all the advanced features, and your users cannot access them, then they are of no use. UI/UX has been a determining factor in deciding the success of any app in today's competitive market. 
Hence, as a marketer, you should also invest sufficiently in UI/UX for your real estate app. Make sure that your development partner has top-rated and certified UI/UX designers to make your app user-friendly. Besides that all make sure that your real estate app has a simple yet engaging interface, and easy-to-locate menu. 
All that increases the ease of users while accessing your app, and eventually makes your app popular in the global market.
5. Hire Experienced Developers 
Once you have finalized the features and designs, it is now time to hire the best app developers for your project. Now, here, you have two options – either hire freelancers for your project, or hire experienced app developers from a reputed and reliable software engineering firm like Matellio. 
Although both these options have their significant benefits, hiring certified developers from a reputed software engineering firm is always recommended. Why? That's because a freelancer may not have that much of expertise as an app developer from a reputed firm may have. Furthermore, a reputed brand will always offer you out-of-the-box ideas and many other benefits which you will not get after hiring freelancers. 
Customer support, latest updates, exceptional features, smooth development, automated testing are some of the valuable benefits that a certified development company provides. Hence, always make sure to hire app developers from a reliable firm at best prices. 
6. Test Your App Thoroughly
Last but not least is testing. Before deploying your app in the market, it is first advisable to test your real estate app thoroughly in and out with the help of certified testers. Testing not only detects the bugs in your app, but even makes your app more efficient and smooth.
However, despite such importance of testing, it is often seen that many marketers avoid this crucial step, and directly deploy their app. As a result, their users experience glitches and abnormality which eventually spoil their brand image. So, to avoid such circumstances, you should invest in testing. Automated testing is a trending aspect in today's development market! 
So, ask your technology partner whether they provide the automated testing services or not! A reputable and experienced software engineering firm always provides all sorts of services from consultation to testing and deployment. 
Tech Stack for Real Estate App Development
We live in a digital world, and everything here changes very rapidly. That holds true even for the technologies! Many new technologies and development platforms come, become a hype, and then vanish quickly. However, there are many leading and robust technologies that stay here for a longer time. 
Hence, you should always invest in all such technologies that are known to stay here longer. Here are some tech stack that Matellio follows for building an efficient real estate app.
For Cross-Platform – Java for Android, Swift for iOS version
For Database – Postgres, PostGIS SQL, etc.
For social networking – Facebook SDK
For Notifications – Firebase SDK, Apple Push Notifications
For Maps – Mapkit 
How much Does it Cost to Develop a Real Estate App like Zillow?
So, we are at the end of our article. Now, all of you would have a common question in your mind –  the cost of developing a real estate app. Hence to solve your query, we are here! The cost developing any mobile application usually depends on many factors, including
The cost of project manager, and other tools required to manage and complete your project comes under this type.
Total cost of hiring different developers for an efficient mobile app development comes under this type of cost.
The cost of UI/UX designer usually falls under this category. Besides that, all the designing tools required to make your app user-friendly and engaging also falls under this category.
Finally the cost to test your real estate app is also considered while estimating the total cost of development.
Besides all the costs mentioned above, there are many other factors that contribute to the total cost of developing a real estate app. Hence, it is advisable to contact our team to get an accurate estimate of the project.
Final Thoughts
So, those were some of the factors that you need to consider while creating an efficient real estate app. To conclude, we can say that mobile apps are the true future of the global industries. Almost everyone today has shifted to mobile platforms as it not only caters to all the customer needs efficiently, but also helps businesses save money and build brand value. 
With a dedicated mobile app, you can reach a greater number of audiences, and can even explore new ways of generating revenues. That's why almost 69% of marketers today are investing in mobile apps. Do you want to become a part of this successful trend? Wait no more! Reach us today and get a free consultation over your next big app idea. Our experts promises to deliver an error-free and feature-rich application at best competitive prices. Visit us to know more!
Till then, Happy Reading
Disclaimer: Please note that the content of this blog including links, texts, images, and graphics is only meant for informational purposes. We do not intend to infringe any copyright policy or do not possess any third-party material. If you have issues related to any of our content or images, kindly drop your message at 

info@matellio.com

 
Get the Conversation Started!
Get the Conversation Started!
[contact-form-7 id="34486" title="Side Form"]