Custom AI-Powered Solutions for eCommerce
Transform your online business with personalized, data-driven, and automated AI solutions for eCommerce.
AI-powered eCommerce
We are experts in building AI-based eCommerce platforms using advanced machine learning algorithms to deliver personalized shopping experiences and streamline various processes, such as product recommendations, customer service, and supply chain management.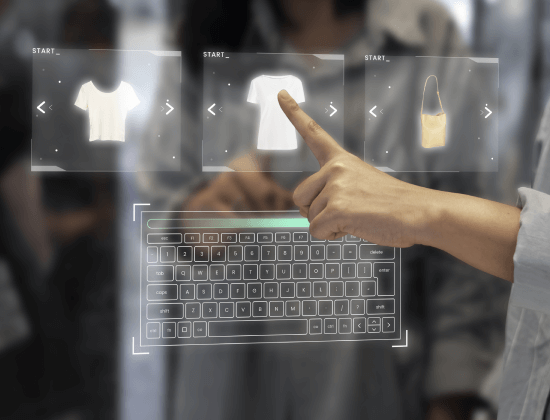 Custom Personalization Solutions
We enable online stores to deliver highly personalized shopping experiences, enabling them to tailor product recommendations and automate emails, and other marketing campaigns to the individual needs of each customer, allowing them to increase sales and customer satisfaction.
Product Search and Discoverability Solutions
Harness the power of custom product search and discoverability solution to improve the user experience for your online store by making it easier for them to find the products they want through NLP algorithms that understand customer intent and provide relevant results.
AI-powered Customer Support
Improve your post-sale services with custom AI solutions for eCommerce for customer support using technologies like natural language processing and machine learning to provide quick and accurate responses to customer inquiries and enhance overall customer satisfaction.
Omnichannel Solutions
Get custom-built omnichannel solutions for your retail business to provide a seamless shopping experience across all channels, including physical stores, mobile apps, and websites. With AI tools, we will help you personalize shopping journeys, automate processes, and enhance the overall customer experience.
Sales Prediction Solution
We build robust and reliable AI-powered sales prediction solutions for eCommerce with algorithms to analyze historical sales data and consumer behavior. This will help you forecast future sales, optimize prices, and streamline inventory management.
Looking for Developing Custom AI Solution?
Why Matellio for eCommerce Solution Development?
Custom AI Solutions for eCommerce We Develop
Our AI eCommerce developers build custom retail software with cutting-edge functionalities.
Our Global Clients
Clients across the globe trust us with their digital transformation and software development needs.






We Are Trusted By Businesses Across the Globe
Leading companies have trusted us for fulfilling their development needs.
Frequently Asked Questions
1. Can AI be integrated with my existing eCommerce website and app?
Yes, Matellio can integrate AI with your existing eCommerce website and app. As a full-service digital transformation and software development company, Matellio has extensive experience in integrating AI into various types of websites and apps, including eCommerce platforms. Some of the ways Matellio can integrate AI into your eCommerce platform include personalized product recommendations, AI-powered chatbots, visual search, and inventory management.
2. What type of AI solutions can be integrated into an eCommerce store?
Some of the AI solutions that can be integrated are personalized product recommendations, chatbots for customer support, image recognition for product searches, fraud detection for secure payments, and inventory management to optimize stock levels. We can also integrate natural language processing (NLP) to understand customer queries and provide relevant information, predictive analytics to forecast customer behavior and demand, and machine learning algorithms to continuously improve customer experiences. Our experts will work with you to determine the best AI solutions for your specific needs and ensure a smooth integration process.
3. Do you develop operation-specific eCommerce platforms?
Yes, Matellio does develop operation-specific eCommerce platforms. We specialize in building custom eCommerce solutions for retail, wholesale, and B2B businesses. Our solutions will be tailored to meet the unique needs of your company's operations, allowing you to increase efficiency, reduce costs, and improve customer experience. Some of the more popular custom solutions we build include inventory management systems, warehouse management systems, supply chain management software, customer retention software, and more.
4. What type of AI development services do you offer?
Matellio is a custom software development company that offers a wide range of services for AI development. Below mentioned are the names of some of the services we can offer with the technology in the retail domain.
AI-Powered Product Recommendations

Dynamic Price Optimization

Automated Inventory Management

AI-Enabled Customer Service

Visual Search

Marketing Personalization

Product and Catalog Categorization

AI-Powered Fraud Detection, etc.
5. Can you develop MVP for my eCommerce business?
Yes, we develop MVPs for eCommerce businesses with all the essential features as required by the client. This can include user registration and authentication, a shopping cart, a product catalog, a payment gateway, orders and inventory management system, automated shipping and tracking system, and a search engine for customers to find products quickly. In the MVP, we develop all the features to provide a solid foundation for your eCommerce business.
6. How do you maintain transparency during the development process?
Matellio places a high value on transparency during the development process. We provide regular progress updates to clients, allowing them to stay informed about the status of their projects at all times. We also provide them with access to project management tools, such as Trello or Jira, to view project tasks, deadlines, and progress in real-time. Over that, clients can also anytime ask questions, provide feedback, and address concerns throughout the development process. To further add assurance to our services, we conduct extensive testing and quality assurance in order to maintain superior quality of output at every stage. In the end, we give the entire code ownership to the client, retaining nothing but the experience of working on their idea.
Featured Content to Help You Learn More About AI in Retail