A Trusted Automotive Software Development Company
We bring together a distinctive blend of technical experience and business knowledge to assist our clients in developing value-added software-driven solutions based on a solid architecture. Develop safe and adaptive software for automotive sectors with us. While providing end-to-end software projects for in-vehicle systems, we also develop complex data platforms for the autonomous driving ecosystem as a whole. We believe in delivering sophisticated automotive software development services while ensuring a high level of software performance.
Automotive Software Development Services We Provide
From creation to deployment; we are experts in providing magnificent development services.
Custom Software We Develop for Automotive Industry
Improve internal workflows and operations for auto dealers, manufacturers and more with us.
Autonomous Car Software
We develop autonomous vehicle software that complies with key standards. Build and deploy applications efficiently, including perception, localization and mapping, planning and control, driver monitoring, and natural language processing with us.
Connectivity and Telematics Solutions
We deliver smart, secure and connected Telematics solutions for our clients. Monitor the status of fleet vehicles with telematics systems including geo-location, data management for driver activity and eco-driving, etc. to enhance the overall driving experience in the automotive industry.
RPA Automotive Software
Automate repetitive and manual tasks with RPA automotive software and improve the efficiency of the processes you rely on, allowing the automation industry to deliver higher quality services by eliminating manual errors and rework time.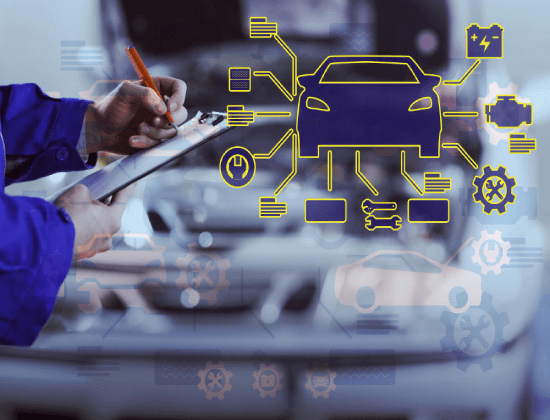 Fleet Tracking Software
Fleet management software that allows businesses to monitor, track, and create detailed performance reports on vehicle fleets; providing real-time GPS tracking, performance data, route planning features, asset management and more, monitoring the health of a company's vehicles.
IoT Enabled Software
Enhance your business operations efficiency, data collection, device integration, real-time analytics, and application and process extension through custom IoT software. We use IoT solutions to enable a data-driven approach for decision-making processes based on real-time data analysis.
Custom ECU Development
Leverage the expertise of our custom ECU development services in controlling the vehicle's electronic system from basic components like engines and powertrain to the advanced ones like anti-lock braking and seating control.
Human Machine Interface Software
We build Human-machine interface software (HMI software) for an intuitive graphic user interface to help monitor and operate sophisticated automotive equipment, also enabling a user to communicate with a machine, computer program or system.
Automotive Manufacturing Software
Our manufacturing software solution helps manufacturers meet automotive industry standards, compliance and quality requirements while improving functionality and lessening the complexity leading to short delivery times, and rapid production.
Want to Develop a Software for Automotive Industry?
Why Matellio for Automotive Software Development?
Next-Gen Capabilities We Possess
Discover the amazing next-gen technologies that we offer for Automotive software development.
Our Global Clients
Clients across the globe trust us with their digital transformation and software development needs.






We Are Trusted By Businesses Across the Globe
Leading companies have trusted us for fulfilling their development needs.
Frequently Asked Questions
1. What types of software can be integrated in the automotive industry?
Software solutions play a significant role in the automotive industry. There are several different types of automotive software that improve customer satisfaction, general performance, and safety. 
The software utilized in the automotive sector are: 
Navigation software

 

Software for Vehicle Safety

 

Garage Software

 

Software for automotive systems (Autopilot)

 

Computer-aided design software (CAD)

 
2. How much time does it take to develop Automotive software?
There is no such predefined time for designing or developing software. It greatly differs depending on the requirements of the client and features involved. The easiest approach to determine an expected time is to speak with professionals. If you have any idea or requirement that requires our help, feel free to request a quote and we will help you with getting the estimates. 
3. What is the cost estimate of Automotive Application Development?
The cost of developing an Automotive Application relies on several variables like software components used, the number of product parts and complexity of the automotive software, and more; which we can only estimate once we have fully grasped your company's needs. 
4. Do you give assurance about confidentiality of the Software idea?
Yes, to protect your software idea and data, we sign a stringent NDA. Hence, we promise that the development of your project will be completely secure and private. 
5. What features can you include in development of an Automotive software?
Matellio is a pioneer in offering software development services tailored to a certain industry, such as the automotive industry. The top features of automotive software include mobile compatibility, a powerful dashboard (controlling everything), SaaS integration, real-time analytics, GPS and AI-enabled tools, and cognitive technology. 
6. Do you develop mobile-friendly automotive solutions?
Yes, we develop mobile friendly solutions for the automobile industry with a variety of features and functions, including real-time traffic information, remote access and control of vehicles, tracking of vehicle maintenance, and monitoring of fuel economy. Additionally, solutions can offer a number of advantages to both private automobile owners and automotive firms by introducing portability.  
Featured Content to Help You Learn More About Automotive Industry