Business Intelligence Services and Solutions
Turn your data into actions, stream analytics, and self-learning algorithms, and discover new growth opportunities with our business intelligence services and BI software development.
Why is Business Intelligence Important?
Today's era is about advanced tools, data, and customer experience; business intelligence services offer all that and much more. With our enterprise business intelligence services, you can make informed decisions by analyzing historical, current, and predictive data. Quickly adapt to the latest market trends and better understand customer behavior and your business performance to streamline processes and improve operational efficiency. Join the league of successful enterprises with our tailored business intelligence services and solutions!
%
Companies consider business intelligence to be an important element for their future growth. (Dresner)
%
Employees worldwide use business analytics tools and solutions to access insights. (Towards Data Science)
%
Business leaders agree that Big Data & BI have created a big difference in their business. (Forbes)
Business Intelligence Services We Offer
Unfold growth opportunities with our comprehensive range of BI services and solutions tailored to your business needs.
Business Intelligence Consulting
As a leading business intelligence services company, we connect with you to understand your concerns and offer a business-focused strategy. Get a wide range of BI consulting services, including data management, data visualization, technology consulting, and more.
Digital Consulting 

 

BI Strategy Consultation 

 

Business & Technology Consultation 

 

Market Research & Competitor Analysis
Business Intelligence Software Development
Our talented BI developers use OLAP technology to build custom solutions that analyze data from multiple sources. We ensure complete security, industry compliance, and an engaging UI for your custom BI solutions build for desktops, mobiles, and browser apps.
Sales and Marketing BI Solutions 

 

Custom Reporting Tools and Dashboards 

 

Cloud BI Application Development 

 

Embedded Analytics Platform
Data Warehousing Services
We excel at developing the best-of-breed data warehousing solutions that gather, clean, and store that data while making it useful for further analysis. Our experts offer high-quality data monitoring, management, and interpretation techniques to strengthen your intelligence efforts.
Data Modelling and Governance 

 

Data Warehousing Architecture Designing 

 

Data Migration and Synchronization 

 

ETL (Extract, Transform, Load) Development
Reporting & Data Visualization
We engineer interactive and data-rich analytics and reporting solutions that offer visualizations in various formats, including tables, graphs, charts, gauges, maps, etc. Our custom-built solutions and tools can be easily integrated into your IT infrastructure to get fast and centralized responses.
Sales and Marketing Analytics Solution

 

HR and Admin Analytics Solution

 

Helpdesk Analytics Solution

 

Finance Analytics Solution
BI Software Modernization
We bring our profound expertise to modernize your BI solution with better features, reliable technologies, and next-level interface designs. Our BI developers audit and upgrade your existing solution to accelerate data computing and provide a better business overview in better formats.
Software Architecture Re-engineering  

 

Technology and Platform Migration 

 

UI/UX Enhancement Services 

 

Features Upgrade and Cloud Integration
Business Intelligence Software Integration
We take pride in developing and delivering custom BI solutions that can be easily integrated into any third-party solution for streamlined workflow and enhanced intelligence processes. You can import data from multiple URL feeds and formats, including JSON, HTML, XML, CSV, XLS, XLSX, etc.
ZOHO Analytics Integration 

 

Oracle BI Integration 

 

SAP Business Objects Integration 

 

Looker Integration
Need Expert Guidance for BI Implementation?
As a leading BI services company, we understand your business requirements and ensure to deliver a cost-effective and business-focused BI solution Share your requirements with us to get started today!
Various Business Intelligence Solutions We Can Develop
Enrich your company with smart BI solutions that cater to your unique and complex business requirements.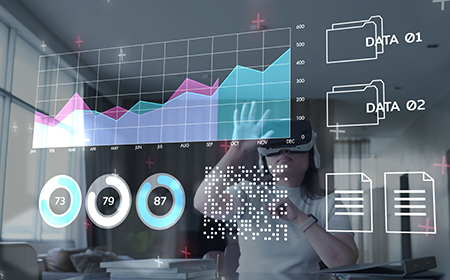 Big Data & Analytics Platforms
We use the latest tools and technologies to create a scalable big data and analytics solution that identifies patterns, trends, and correlations in your data and provides valuable insights into your business operations.
Next-Gen Enterprise Solutions
Whether AI, IoT, AR/VR, ML, or even Cloud and Blockchain, we can develop and deliver any sort of custom solutions that facilitate innovations, reduce operational costs, and scalable infrastructure supporting modern advancements.
ERP Software Development
As a leading enterprise software development company, we have years-long experience in building custom ERP solutions that resonate with your brand value and simplify your mission-critical tasks using modern tools and infrastructure.
Predictive Analytics Solutions
We can develop predictive analytics software that utilizes BI tools, AI/ML models, and statistics to create new revenue models, identify business risks, and interactively visualize data to detect trends and patterns.
Business Management Solutions
Our talented BI experts create custom enterprise solutions, including CRM, AI/ML solutions, HRM software, project management tools, etc., to help you redefine your long-term business goals and innovate your existing processes.
Data Management Solutions
Get custom data management solutions that create, manage, and share your company data over various enterprise platforms and environments to help you increase efficiency and productivity and boost business innovation.
Tools and Technologies We Use
Get Industry-specific Cloud Integration Services and Solutions
As a leading cloud integration service provider, we offer services and solutions meeting your industry requirements.
What Our Clients Had to Say About Us
Frequently Asked Questions
1. What is business intelligence?
Business intelligence (BI) is a term that encompasses a range of tools, techniques, and strategies used to analyze and present data in a way that helps organizations make better-informed business decisions. It involves collecting and analyzing various data sources, such as customer transactions, sales figures, market trends, and competitor performance, to identify patterns, trends, and insights that improve business operations, increase efficiency, and stay ahead of the competition.
2. What are the benefits of business intelligence?
Business intelligence services can provide numerous benefits for organizations, including:  
Improved decision-making: Business intelligence services can provide insights and analysis of key data points that help organizations make informed decisions about strategy, operations, and other important areas. 

 

Increased efficiency: By automating data collection, analysis, and reporting, business intelligence services streamline processes and reduce the time and effort required to gather and analyze data. 

 

Better customer service: Access to real-time data can help organizations improve customer service by identifying and addressing issues quickly. 

 

Competitive advantage: Business intelligence services provide organizations with insights into their strengths and weaknesses and information on competitors, enabling companies to gain a competitive edge by identifying opportunities for growth and improvement. 

 

Cost savings: By identifying areas of inefficiency and waste, business intelligence services can help organizations save money and increase profitability. 

 

Enhanced collaboration: Business intelligence services create transparency in data sharing, enabling better communication and collaboration to achieve common goals.
3. Besides enterprise business intelligence services, what do you offer for my business?
As a leading software engineering studio, we offer a comprehensive range of professional services, including (but not limited to):  
DevOps consulting 

 

AI development services 

 

IoT development services 

 

Custom enterprise software development 

 

Enterprise mobility solutions 

 

App/web development services 

 

Product engineering and prototyping 

 

SaaS development services 

 

Cloud migration and consulting 

 

Technology consulting 

 

Digital transformation services
4. What is the cost of business intelligence software development?
The cost of business intelligence software development can vary depending on several factors, such as the size and complexity of the project, the level of customization required, and the experience and expertise of the developers involved. A small, simple BI project may cost anywhere from several thousand to tens of thousands, while a larger and more complex project may cost hundreds or even millions of dollars. It is best to consult with our professionals to get a better estimate based on your specific needs and requirements. You can fill out our form to book a free 30-minute consultation today!
5. What approach do you follow for business intelligence implementation?
As a leading enterprise business intelligence services company, we follow the best approach for implementing custom BI solutions in your business. Here's what our business intelligence software development process looks like:  
Business intelligence consulting to understand your data flow, business operations, and concerns. 

 

Solution architecture designing 

 

Implementing the best features and tech stack 

 

Integrating your BI solution with data sources and data warehouses 

 

Developing dashboard and reporting tools for data analytics and data visualization 

 

Implementing the custom BI solution in your organization
6. How do you make a BI solution tailored to my business needs?
We follow the Agile methodology to create a custom BI solution that perfectly matches your needs and expectations. That's because, with the Agile method, you get constant updates on your project after every development cycle. Moreover, all your ideas are considered, and you can alter anything at any stage of product development without affecting the previous sprint.   
Here's what our SDLC looks like:  
Offering digital consulting services 

 

Creating various prototypes and wireframes 

 

Finalizing the features and designs and creating an MVP 

 

Offering resources on flexible engagement models 

 

Creating your BI solution 

 

Testing and deployment
7. How do you ensure the confidentiality and security of my ideas and business data?
We sign an NDA legally binding our employees and us from sharing your data or ideas with third-party businesses. Hence, you can remain assured of your privacy and confidentiality.
8. What is business intelligence consulting?
Business intelligence consulting is our BI offering that uses data analysis tools and techniques to help you make informed decisions. It typically involves collecting, analyzing, and interpreting data to identify patterns, trends, and insights that help businesses make better decisions. That includes creating dashboards, visualizations, and reports to communicate the insights discovered during the data analysis.