Computer Vision Services
Future-proof your business today by creating automated applications that capture, recognize, and generate insights from visuals with our reliable computer vision services.
Get in Touch
How Computer Vision Adds Value to Your Business?
Extract real-time insights from your texts and visuals and improve your business efficiency multiple times with our computer vision services. Create smart computer vision applications that detect anomalies, and analyze your user behavior with just a click. Make the most of your digital solutions with capabilities like object identification, face recognition, and image segmentation.
Our unsupervised machine learning models are capable enough to identify specific places, people, and objects and categorize them to retrieve valuable information and analytics. Address the future challenges for your business with our smart and cost-effective computer vision services, and make the most of this promising and evolving technology with our experts.
Deliver Unique Customer Experience with Matellio's Computer Vision Services
Step into a smart era with our cost-effective and reliable AI computer vision services.
Image Recognition Systems
Derive actionable insights from your images with Matellio's custom image recognition systems. Increase your business efficiency, by getting in-depth analysis from the images and visuals in real-time as they stream.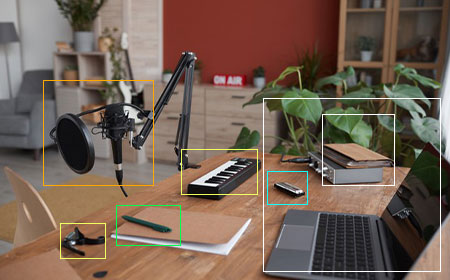 Object Identification Systems
Leverage our advanced face recognition software solutions to enhance the safety and accuracy of your business operations. Track and verify various objects with ease using our cost-effective AI services for enterprises.
Face Recognition Solutions
Identify, analyze, and recognize the faces and emotions of your customers in real-time with a custom face recognition solution. Enhance your customer's experience and smoothen your legal inquiries with our AI services.
Semantic Segmentation Solutions
Expand the arena of your business operations with our advanced and reliable semantic segmentation services. Segment different types of objects and environments using our high-end tools and reliable computer vision services. .
Video Analytics Solutions
Identify and detect all the anomalies in your business with videos using our custom video analytics solutions. Send alerts/notifications automatically, and eliminate the manual controlling with our computer vision services.
Upgradation Services
Maintain & revamp your existing digital solutions into an advanced computer vision system with our reliable upgradation services. Get the latest capabilities of smart AI applications to future-proof your business with Matellio.
Ready to build intuitive and custom computer vision solutions as per your business needs?
Understanding your requirements and objectives is important to us. Share your ideas and requirements and take away a fully customized computer vision application for your business.
Technologies We Work Upon
At Matellio, we use trending programming languages and technology platforms to ensure smooth and reliable computer vision solution development.
Our Flexible Hiring Models
Choose the best pricing models that best fit your business.
Frequently Asked Questions
We now have an FAQ list that we hope will help you answer some of the more common ones.
1. What is computer vision used for?
Computer vision is an excellent advancement of AI technology that makes your machines smart and human-independent. With this unique and reliable AI-driven technique, you can enable your systems to understand and interpret human behavior with the help of visuals and images. The machines can then react to various scenarios based on their past learnings to enhance and automate your business operations.
2. What are the key areas where computer vision could be used?
Computer vision services could be easily implemented in any of the business sectors that aims to automate their work operations and innovate their brand. Here are some leading sectors where you could easily deploy our computer vision services:
Retail

Healthcare

Agriculture

Manufacturing

Insurance

Government, and so on 
3. What is the difference between computer vision and machine vision?
Computer vision is an integral part of machine vision. That means when the machine vision captures any kind of image with the help of cameras, that image is first processed in the computer vision system, and then the final output is given.  
Collaborative Recommender System

Content-based Recommender System

Demographic-based Recommender System

Utility-based Recommender System

Knowledge-based Recommender System

Hybrid Recommender Engine
4. How do you implement a computer vision system in my enterprise?
With our quality development services, implementing any sort of custom software solution/technology becomes a piece of cake for you. Here's how we work:
Fill our Consultation Form

Consult with Experts

Select Suitable Features and Designs

Hire Professional Engineering Team

Test and Deploy
5. What are the applications of computer vision?
Our reliable computer vision services could be used to enhance various applications like:
Facial Recognition

Self-Driving Cars

Unmanned Vehicles

Optical Character Recognition

Augmented Reality Apps, and many more
6. How much does it cost to build computer vision software?
At Matellio, we always follow agile development methods to develop any sort of custom applications so that they can be made in a cost-effective manner. However, the cost and time required to build a custom computer vision application depend majorly on many crucial factors like complexity, integrations, design, and so on. You can reach our team to know the exact estimation of the project development.
7. How do you ensure the quality of my solution?
Our team of qualitative analysts performs different kinds of automated and manual testing for spotting any errors that the software may have. Only after getting a clear card from their side, we offer the computer vision application to our clients.
8. How to ensure the confidentiality of my computer vision software?
At Matellio, we ensure the complete safety and security of all our customer's data. That's why, before initiating any project, we sign NDA (Non-disclosure agreement) to safeguard your critical data from thefts and leaks.
9. What steps does Matellio follows for developing a computer vision solution?
Our SDLC goes through the following stages:
Discovery

Architecture

UI/ UX design

Solution development

QA and testing

Intermediate release

Solution deployment
10. Do you provide any sort of consultation services?
Yes, we at Matellio, offer all our clients a free expert consultation to discuss the feasibility of their ideas, and to offer them the latest trends that would enhance their custom software solution.