Firmware Development Services
Our firmware development services aim at providing customers with the best-in-class interface and control over their hardware devices. We can create a solution the way you require and fit all your custom requirements the way you want.
Our Firmware Development Expertise
As your custom firmware development company, we can assist you in a variety of ways to achieve the results you are looking for. Whether you have a platform in mind or are planning to build firmware for your devices and platform from scratch, we can help you build either.
Firmware Development Services Matellio Offers
Our firmware development services consist of end-to-end firmware, including planning, implementation, and development.
IoT Device Firmware Development
Our skills and experience in IoT help us develop highly functional firmware for different IoT devices. Along with our IoT development services, we offer an entire package where everything from devices to networks is taken care of.
Custom IoT Firmware Development

 

Device Connectivity

 

Data Security 

 

Data Transfer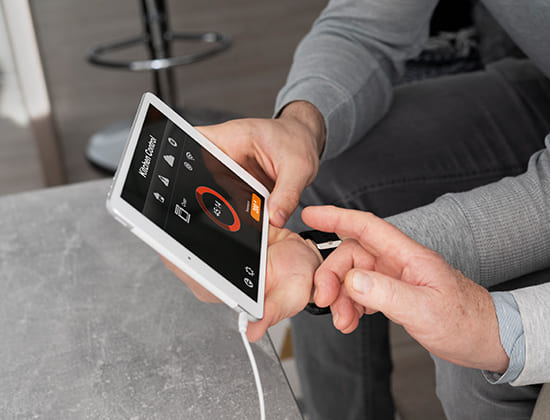 Device Driver Development
With our firmware development service, we provide a full stack connectivity suite with our driver development services. Our expertise lies in creating a perfect driver for the range of devices to leverage maximum business efficiency.
Driver Development

 

OTA Updates

 

Remote Controlling

 

Full Stack Devices
Embedded Firmware Development
Our embedded firmware development services help clients gain an edge over legacy systems. The solutions we create a capable of running and housing the entire software required to gain complete control over the device's functions.
Microcontroller Development

 

Embedded Engineering

 

Efficiency Monitoring

 

Data Collection
Migration of Legacy Firmware
With progressions in terms of IoT, AI/ML, connectivity, migrating, and upgrading firmware have become a necessity. Our experts help migrate your old firmware while reusing major components to reduce cost and development time.
Old Firmware Migration

 

Firmware Upgrade

 

Firmware Customization

 

New Firmware Development

 
Get a FREE Estimate
Share your requirements and get expert help!
Why Matellio as Your Firmware Development Company?
Firmware Development Tools
We are Trusted by Businesses Across the Globe
Frequently Asked Questions
1. Why do I need firmware development services?
Custom Firmware development services are essential to develop reliable, efficient, and secure software that can control hardware devices. The software we would create will be critical to the operation of electronic devices and must be developed with great care and attention to detail. 
2. What to look for in a firmware product development company?
Your firmware development partner should have a strong understanding of embedded systems, microcontrollers, programming languages, and hardware design. In addition, they should be able to troubleshoot and debug complex software and hardware issues that may arise during development and after deployment. 
3. How much time does firmware development take?
The time required for firmware development depends on the project's complexity and the development team's size. Giving even a tentative quote without knowing your exact requirements would be impossible. When you submit your requirements, our consultant will reach out to you and answer all your queries.  
4. What process do you follow for firmware development services?
The firmware development process typically includes several stages: requirements gathering, design, coding, testing, and deployment. The process can vary depending on the project's specific needs, and our development team will work closely with you to ensure that the solution meets your requirements. 
5. Which programming languages are used in firmware development?
Common programming languages used in firmware development include C, C++, Assembly, and Python. The choice of language depends on the project's specific requirements and the hardware being used. We will help you choose the best development language based on the particular merits of each specific to your requirements.  
6. Is there a requirement of testing in firmware development?
Testing is a critical part of firmware development services. Testing ensures the software is working correctly and free from errors or bugs. We use a variety of testing methods, including unit testing, integration testing, and system testing, to ensure the quality of the software.