IoT Product Development
Our IoT Product design and development aims at creating the perfect custom solution for our clients. Whether you are from the manufacturing sector or the retail industry, our experts ensure a perfect IoT Product for your business.
IoT Product Development Expertise of Matellio
Our engineers are vetted to provide the utmost satisfaction in terms of coordination and the most superior product. When you choose Matellio to build your custom IoT products, you can rest assured about everything. All you need to take care of is to give timely feedback within the SDLC, and we will implement them to build a perfect product suiting all your business needs.
Custom IoT Product Development Services Matellio Offers
Explore our top IoT product development services, which can help streamline your business processes.
Product Consulting
As your IoT product development consultant, our role is to help you navigate the complex and rapidly evolving IoT landscape and develop innovative and practical IoT solutions that meet your specific business needs and goals.
Market Research and Identification

 

Firmware and Software Consulting

 

Testing to Ensure Security

 

FCC, CE, and RoHS
IoT Product Design & Engineering
Our IoT product design and engineering service involves the end-to-end process of developing IoT products, from ideation to commercialization; it includes conceptualization, design, prototyping, testing, and manufacturing.
Ideation and Prototyping

 

Product Requirements

 

Testing and Validation

 

Commercialization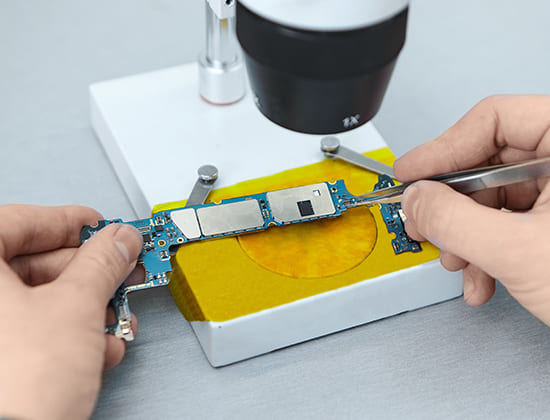 IoT Product Prototyping & Testing
As an IoT product prototyping and testing service provider, our role would be to work with you to develop functional prototypes that meet your specific business needs and requirements while testing the prototype thoroughly.
Prototype Development

 

User Experience Testing

 

Design Iteration

 

Cost Optimization

 
IoT Product Upgradation
It is critical to ensure that IoT products remain competitive in the market and meet evolving customer needs; we will help you find areas for improvement in existing IoT products and implement the necessary upgrades.
Product Analysis

 

Competitor Analysis

 

Design and Development

 

UI/UX Upgrades

 
Want a Custom IoT Product for Filing Gaps in Current Processes?
Hire the best IoT product developers who can create the perfect solution for your business.
Our Custom IoT Product Development Process
We follow a simple yet detailed process to ensure every IoT product we build stands out.
Concept Development

Our consultants help you figure out the best ways you can use IoT in your business.

Strategy and Planning

We create the strategy for your business success under all circumstances.

IoT Engineering

Our engineers build the perfect IoT product encompassing your requirements.

Product Testing

We thoroughly test the product we build to ensure zero outages and errors.
Technology Requirement for IoT Product Development
We are Trusted by Businesses Across the Globe
Frequently Asked Questions
1. What is IoT product development?
IoT product development involves the process of designing, developing, and launching IoT products that connect physical devices to the internet, allowing them to collect and share data. This can include hardware, firmware, software, and cloud-based components, as well as prototypes of the said product. 
2. What services do IoT product development companies offer?
IoT product development company like Matellio offers a wide range of services, including product ideation, requirements gathering, design and engineering, prototyping and testing, manufacturing, and more. We can help you upgrade and integrate your current solutions with your custom IoT product as well.  
3. What are some common IoT product development challenges?
Common IoT product development challenges include integrating multiple hardware and software components, ensuring security and data privacy, meeting regulatory requirements, and developing a scalable and cost-effective solution. When you hire experts from Matellio, you can ensure these challenges can be overcome with ease.  
4. How can IoT product development services benefit my business?
IoT product development services can help businesses leverage the power of connected devices to improve efficiency, reduce costs, and create new revenue streams. By developing innovative IoT products, businesses can differentiate themselves in the market and meet evolving customer needs. 
5. How long does it take to develop an IoT product?
The time it takes to develop an IoT product depends on various factors, such as the complexity of the product, the number of components involved, the level of customization required, and the availability of resources. There is no ballpark figure we can give out without taking a look at your requirements, but you request a free quote once you submit your requirements below.  
6. How much would it cost to develop an IoT product?
The cost of building an IoT product is completely dependent on the complexity and the components of the product to be developed. While it would be impossible to give a figure without knowing what you are looking for, we can share one detailed quote when you share your requirements with us.