Robotic Process Automation (RPA) Services
Matellio offers end-to-end RPA development services to help companies revitalize their manual business processes and enrich businesses with automated systems, intelligent bots, and future-proof automation strategies. Get expert RPA consulting services to identify and automate your business processes, save costs and evolve into a more advanced and successful business.
Get in Touch
How Robotic Process Automation Adds Value to Your Business?
RPA development services help your business automate mundane and complex rule-based tasks with innovative robotics processes. You can boost your business revenues and make it secure and futuristic with our well-defined RPA services. Simplify your complex business operations, and make your machines smart and human-independent to save cost and enhance the customer experience.
As an expert RPA development company, we make sure that your business remains future-proof and thriving in the market. Our robotic process automation services are meant to flourish your pool of resources and offer high returns on your investments. Witness an unsupervised machine learning experience that enhances your business and increases your sales and brand value.
Get Industry-Wide Success With Our RPA Development Services
Step into a smart era with our cost-effective and reliable RPA services.
RPA Consulting Services
Leverage our decade-long experience in RPA consulting to identify the challenges and business opportunities generated via RPA development services. Explore various solutions and prepare a perfect road map for your adopting RPA services.
Virtual Assistant Development
Our RPA developers can help you build smart and human-independent virtual assistants to satisfy all your business and customer needs. Automate your mundane tasks and offer an excellent experience to your customers with our professional RPA development services.
RPA Application Development
Generate more business revenues and enhance your customer experience by creating intelligent RPA applications based on your customer's requirements. Witness the ease of doing business with dedicated mobile apps using our RPA app development services.
RPA Integration Services
Export data from onsite and cloud-based solutions and transform them into actionable form with our reliable RPA services. Integrate various other digital solutions with your RPA software and expand the scope of your business operations.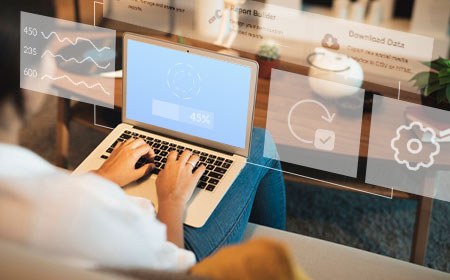 Proof of Concept Service
Apply our expertise in RPA and Proof of Concept services to get a complete idea of your project and ROI. Validate your RPA development idea, and witness the complete digital transformation process and enterprise-wide use cases that help you make better decisions.
Testing & Support Services
Let us help you throughout your process automation strategy by offering reliable support and maintenance services for your custom RPA solutions. Maintain the high performance of your RPA solutions, and create new opportunities over time with our experts.
Get a Free Expert RPA Consulting for Your Project Today!
Share your project ideas and business requirements with our experts over a free consultation call and kickstart your RPA development today!
Discover Top Use Cases of RPA for Different Industries
Explore a wide range of RPA use cases you can implement in your business.
Technologies We Work Upon
At Matellio, we use trending programming languages and technology platforms to ensure smooth and reliable RPA software development.


Frequently Asked Questions
1. What is RPA?
RPA or Robotic Process Automation is an excellent AI-driven technology that you can use to develop virtual assistants for your business. These virtual assistants or robots could simulate human behavior and can simplify and automate all your mundane and complex tasks without any human-dependency.  
2. What can RPA do?
RPA development services could enhance your customer behavior and boost your business revenues and sales while facilitating your organization's automation. Besides that, you can even leverage our custom RPA solutions to detect anomalies in your business operations without any resource-dependency. All that helps you bring innovation to your business and even saves your business costs and time.  
3. Is RPA a part of Blockchain?
Although RPA is an excellent part of artificial intelligence, it can work safely when integrated with blockchain solutions. That's because we all know that the solutions' security increases exponentially using blockchain technology. Hence, RPA solutions could seamlessly provide actionable outputs and, then the data could be shared securely within the environment using blockchain tools.
4. How do you implement an RPA solution?
With our quality development services, implementing any custom software solution/technology becomes a piece of cake for you. Here's how we work:
Fill our Consultation Form

Consult with Experts

Select Suitable Features and Designs

Hire Professional Engineering Team

Test and Deploy
5. What industries can use RPA services?
As a leading RPA development company, we ensure that every company, irrespective of its size and domain, can leverage our services and solutions. To name a few industries, we have: 
Retail

Manufacturing

Agricultural and Food

Human Resources

Insurance

Healthcare

Logistics and Transportation, and many more
6. How much does custom RPA software cost?
At Matellio, we always follow agile development methods to develop custom applications to be made cost-effectively. However, the cost and time required to build a custom RPA software depend majorly on many crucial factors like complexity, designs, size of the organization, level of customizations, etc. You can reach our team to know the exact estimation of the project.
7. How to ensure the confidentiality of my RPA software?
At Matellio, we ensure the complete safety and security of all our customer's data. That's why, before initiating any project, we sign NDA (Non-disclosure agreement) to safeguard your critical data from thefts and leaks.
8. What are the best RPA tools that you offer in your RPA services?
Our certified developers and testers have access to the best RPA tools and platforms needed to make any digital solutions a hit in the market. Here are some of the prominent RPA tools that we use:
UI Path

MS Flow

Pega Platform

Blue Prism

Nintex RPA

Automation Anywhere, and so on.
9. What steps does Matellio follows for developing a custom RPA solution?
Our SDLC goes through the following stages:
Discovery

Architecture

UI/ UX design

Solution development

QA and testing

Intermediate release

Solution deployment 
10. Do you provide RPA consulting?
Yes, we at Matellio offer all our clients a free expert consultation to discuss the feasibility of their ideas and to provide them with the latest trends that would enhance their custom RPA solution.