7 Ways To Digitize Your Fleet Management Operations
Updated on Feb 14th, 2022
Fleet management and logistics are the two major industries that are on the verge of witnessing digital transformation. The logistics and transportation industry has been amongst the top sectors of the global market, and like other sectors, it is also ready to witness some amazing digital transformations.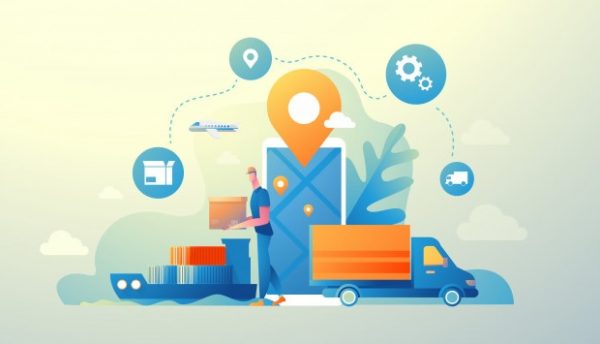 Almost 65% of the top logistic executives state a paradigm shift in the processes in logistics, supply chain, and transportation sectors. Furthermore, 62% of the same niche people also agree that their organization has already started to digitize their core operations. Clearly, many of the factors, including change in customer needs, more competition, and better analytics and process optimization, have contributed to the growth of digital fleet management operations.
If you are also planning to become a part of this digital revolution, this article is for you! In today's article, we will be talking about the seven best ways to seamlessly digitize your fleet management operations. But, before digging in deeper, let's review some basic terms.
How Digitizing your Fleet Management Operations Can Save your Time and Cost?
Before proceeding to the top seven ways for digitizing your fleet management operations, it is crucial to discuss why you need to digitize your business operations. What is the need to adopt digital transformation? What benefits does it provide? Will you get more time to focus on other things? Let's discover more to get all our answers!
Increased costs and low resources are a critical issue prevailing in fleet management for quite some time now. Today, many businesses are concerned to achieve more in less, and that's where a proper digital fleet management software comes to play!
How can your business achieve higher productivity and better security for your drivers and assets without investing many resources?
Fleet management solutions are not always deemed to be crucial. With the tight competition and immense pressure to achieve significantly, many of the organizations today are actively leveraging the fleet management software. These GPS tracking solutions are way ahead of the traditional approaches as they allow the fleet managers to track vehicles and ensure the safety and security of drivers and other assets.
Benefits of Digitization for Fleet Management
Fleet management solutions are not only used for tracking fleets; they are certainly more useful than that. Besides monitoring the fleets and providing real-time locations, it is also helpful in ensuring drivers and other valuable assets' safety. You can get maintenance reports, and can even monitor the failures in fleets while sitting remotely.
Here are all the benefits you can get from adopting digital fleet management software.
1. Improved Vehicle Safety
With a completely automated and digitized fleet management software, you don't have to worry about your vehicle's safety. There's no doubt that we have ample options regarding the fleet management software available in the global market, but they all have one common goal – to monitor and protect the fleets.
With fleet management software, you can address some crucial safety issues like maintenance and reports, driver's safety, fleet security, and so on. Besides that, you can even leverage the advanced real-time reports whenever any driver crosses the geo-fence with digitization.
To anyone new to fleet management, geo-fence is virtual fencing that you build to restrict any driver from entering that particular location.
2. Improved Driver Efficiency
The next significant advantage of adopting digitization in fleet management is improved driver efficiency. With digitized fleet management solutions, you can seamlessly track all your driver's activities. That, in turn, could help you provide them optimized routes that can lead them quickly to the delivery location. Not only that, but it can also help you save a lot of fuel expenditure.
The substantial results in cost savings due to fuel monitoring increases your profitability and gives you an edge over your fellow competitors. An entirely digitized fleet solution can also help you overcome external factors like traffic delays, road construction, or even bad weather by providing your real-time reports. That means you can change the routes of your drivers anytime you want!
3. Enhanced Productivity
Once you get all the real-time reports of your fleets and your driver's behaviors, it is not hard to improve your future business strategies. For instance, you can simply optimize your driver's routes for saving time and fuel costs or track your fleet's performance over a period to know its total cost of ownership.
All those parameters can significantly help you to enhance your overall business productivity. Your drivers will have more time to deliver other goods, and you might be saving a lot after fuel monitoring and analyzing the fleet's performance. Additionally, the maintenance cost will also lower as you detect the issues before they deteriorate the fleet's performance.
4. Effortless Integrations
Often, it is seen that your app or software system doesn't cater to some of the unique needs of your business. At such an instance, third-party apps prove beneficial. Thanks to the digital world, we today have fleet management software that can seamlessly integrate with other third-party systems quickly.
Meaning, you can enhance your fleet management software's capabilities by integrating other powerful apps and systems with it. For instance, warehouse management, inventory management, and driver management will be no difficult once you integrate all those solutions into your vehicle tracking system.
5. Cost and Time Savings
Last but not least, we have cost and time savings. That particular benefit can have a long-term impact on your business and its overall performance in the global market. With a fully digital fleet management solution, you can seamlessly streamline all your fleet management's core tasks.
Vital functions like fleet tracking, driver safety, and geo-fencing are possible with just a click while using fleet management software. However, the main benefits are more than that. For instance, fuel usage optimization, route optimization, easy preventive maintenance, are further add ons that you can get with the digital fleet management software.
Want to know more about the benefits of fleet management software? Here's a read for you all!
How can you Digitize your Fleet Management Operations?
Now that you are convinced to invest in digitization, here are the seven best ways to digitize your fleet management operations.
1. Fleet Tracking Automation
Tracking your fleet is one of the most innovative ways to digitize your fleet management operations. We have many new and powerful telematics software available in the global market today. You can leverage any of those as per your business needs and requirements and can seamlessly get notified about your fleet's real-time location.
Not only that, but tracking the fleets with a digital solution will also enable you to ensure your clients and customers about their products' timely delivery. You can suggest shorter routes and even set geo-fences so that your vehicle doesn't enter any risky and faulty location.
2. Encouraging Road Safety
Road safety is another crucial aspect that many fleet managers are concerned about. Lousy weather, improper roads, and thefts are common issues that a driver may face during his travel time.
Furthermore, many times it is also seen that drivers, in the light, to earn more, overwork, and as a result, they get tired, which may become the leading cause of road accidents. So, to prevent those situations, you can adopt digital fleet management software.
A fleet management software will allow you to set working hours for your drivers as per the government norms and alert you if a driver violates those rules.
3. Inspection Forms
Inspections are essential if you don't want to spend thousands on repairs and maintenance of your fleets. With continuous inspections and monitoring, you can save a lot of time and money that would otherwise be wasted on fleets' services.
Thanks to the digital solutions, you can now get reports of every significant part of your fleet, and it's an overall condition in real-time. You can seamlessly get the reports and even obtain the actual cost of ownership with a digital fleet management software to decide whether to repair the fleet or replace it.
4. Fuel Transactions
Fuel is the most crucial aspect of every fleet manager. Almost all the organizations out there are trying hard to save their fuel wastage. If you are also one of them, then here's good news for you!
You can now save a lot of fuel by adopting a proper vehicle management system. Yes, you heard it right! With a vehicle management system, you can optimize your drivers' routes and help them reach their destinations more quickly. Your fuel savings will be more, and eventually, your profitability and productivity will also rise.
Have you ever wondered that with on-time and fast deliveries, your customer experience will also improve drastically? So, all in all, adopting digital services is not a bad deal for you!
5. Predictive Maintenance Powered by IoT and Big Data
Obtaining vital data from sensors and digital systems can be a lot beneficial to predict precisely when a vehicle needs service, and when it needs a replacement. Knowing the exact condition of your fleets and its parts can save a lot on service and operational costs.
Furthermore, you can also optimize your supply chain schedules, and may even improve your asset availability by adopting a digital software solution. You can start by adopting a fleet solution integrated with supply chain and inventory management software.
With all those unique and compelling digital solutions, you can seamlessly decrease your vehicles' downtime while optimizing their maintenance and repair schedules. Furthermore, reports like tire pressure, engine performance, overheating, and hydraulics may help you lower the wastages and optimize the maintenance schedules.
6. Advanced Telematics Systems
Telematics systems are slowly becoming a part of the modern-day automobiles and fleets. As per McKinsey's report, almost 15% of the cars now come with an installed telematics unit, and approx 100 million telematics systems are currently being operated in the global market.
So, why not adopt it? Yes, telematics systems are an excellent means of digitizing your fleet management operations. Apart from providing you the real-time location of your assets, they can provide other vital data. To name a few, we have:
Asset Utilization Data
Fuel Usage and Optimization Techniques
Scheduling Route Plans and Driver's Safety as per Compliance
Day-to-Day Preventive Maintenance Data
Holistic View of your Driver's Activities.
In short, beginning with a telematics solution is a great way to step into the digital era as a supply chain, transportation, or logistics industry. It gives you the relevant data to grow your business' productivity and gives you an edge over your competitors by providing you the vital KPIs and performance metrics.
7. Adopting Blockchain for Logistics
Last but not least, we have blockchain technology. Blockchain technology is one of the most popular and influential technologies prevailing in the global market, and the reason is its immutable nature. Meaning, blockchain has become an excellent option for storing vital data, exchanging financial data, and safeguarding the IoT systems.
You will be surprised to know that blockchain technology is also proving beneficial in the supply chain and logistics industry. You can seamlessly streamline your transaction flows and can get more insights into your fleet management operations.
Additionally, digitizing your business will also empower you to seamlessly store and exchange all your business's critical information with your partner and clients. Assets, certifications, transportation conditions, and real-time location of your products are aspects that you can share with a blockchain-enabled digital fleet management solution.
Over to You!
Those were some of the crucial aspects through which you can begin the digitization of your logistics, supply chain, and transportation business. To conclude, we can say that the world has already steeped in the future of Industry 4.0. The global sector is moving towards a digital era and has benefited a lot, whether in terms of customer experience or finances. It's high time; you also adopt digital solutions for the growth of your organization.
At Matellio, we have years-long experience in transforming the face of many industries with robust and scalable digital software solutions. Whether for your driver's safety, or tracking your vehicles, or even monitoring and optimizing the fuel usage, we have solutions for your every need. Contact us today to get a free consultation and demo of our unique and user-friendly fleet management software.
Till then, Stay Safe, and Happy Reading!
Get the Conversation Started!
Get the Conversation Started!
[contact-form-7 id="34486" title="Side Form"]