Top 10 Benefits of Salesforce Shopify Integration
Updated on Apr 30th, 2021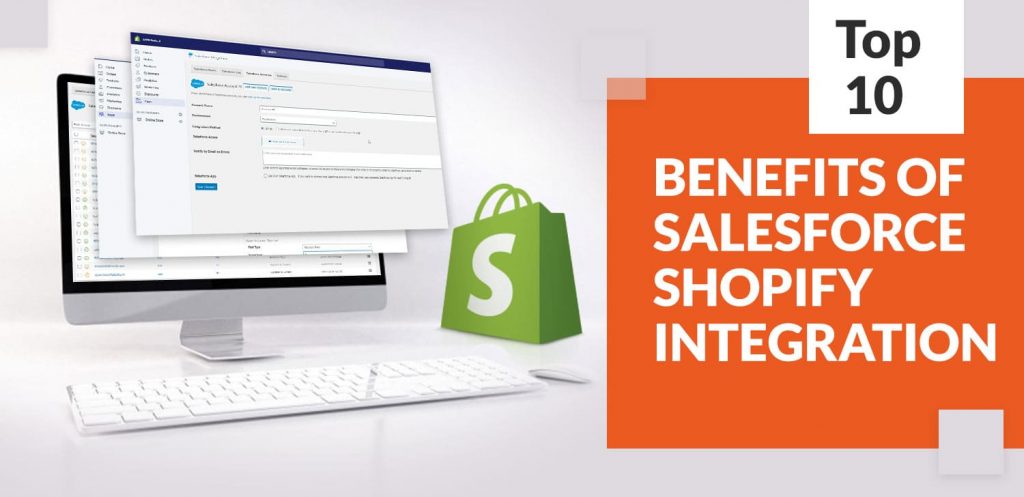 It is important to configure the eCommerce platform for the customer's experience to make the business competitive, successful, and prepared for the growing competition; that's why many organizations and businesses are moving forward to Salesforce Shopify integration.
Integrating Shopify Salesforce has profound benefits for your business. It's a wise investment because it simplifies the company and allows for quick business decisions. Businesses do not necessarily depend solely on one type of distribution platform. Now, businesses can sell via their eCommerce website, which gives them a multi-channel solution. Salesforce Shopify integration allows a single or numerous Shopify stores to link clients and client information, optimize order processing, and track sales transactions with Salesforce CRM. This integration also helps companies control numerous online and offline stores from a single system forum with stock and customer service capabilities.
But is your business still lagging? Or is it difficult for you to manage and control the customer's data and business functions?
Then it is time for you to take advantage of Shopify Salesforce integration.
In this blog, we will discuss the top business benefits of Shopify integration with Salesforce. So without any further ado, let's get started.
Before discussing the benefits of Salesforce Shopify integration, let's discuss some basics first!
What is Shopify?
Shopify is a full-featured e-commerce site that allows you to start, develop, and run a business. Make an online shop and personalize it. Sell on the internet, email, social media, marketplaces, mortar sites, and pop-up shops, among other places. Items, inventory, payments, and delivery can all be handled. Besides, Shopify is a good tool for a lot of companies and is extremely adaptable.
Shopify's advantages are available to both new and seasoned sellers. Shopify has some various benefits over other networks, such as:
Advantages of Shopify:
Let's take a glance at some of the benefits of Shopify. Take a look!
Usability – If you want to bring your business online rapidly and effortlessly, Shopify is among the greatest tools to use. Creating a Shopify store requires little technical knowledge, and all of the functionality is available directly on the site. The functionality is quite straightforward and user-friendly, making it easy to use right away.
Ensures easy integration – Shopify has a range of distinct features and functionality, but what sets it apart is its potential to integrate seamlessly with various other systems and resources. Since it can be seamlessly combined with several applications, the system offers impressive customization capabilities.
Security – As it operates with users' sensitive private and financial details, security is critical for an online company. It must also be accessible at all times through the internet. This managed solution takes care of all of these functions, including updates and maintenance.
Easily compatible – With the growth of mobile users, it's important that your store is mobile-friendly. Shopify was built with mobile compatibility insight, so your store will look great no matter what platform you use to visit it.
Speed – Shopify has a dependable framework and optimized hardware and applications as a globally hosted solution. This allows the platform to load extremely quickly, allowing Shopify-powered eCommerce stores to open in a fraction of a second.
Moving on, let's discuss,
What is Salesforce CRM?
Salesforce CRM is the biggest and most popular CRM software, with various cloud-based sales, support, marketing, and other applications. You don't need IT professionals to configure or handle the products; you can easily log in and begin engaging with customers in a completely new way. You can use various other salesforce services to streamline your day-to-day business operations. Some other custom salesforce services are:
Salesforce marketing cloud
Salesforce sales cloud
Salesforce service cloud
Salesforce community cloud
Salesforce commerce cloud
Salesforce financial cloud
Salesforce IoT cloud, Etc.
Moving on, let's have a look at the advantages of Salesforce CRM. Take a look!
Advantages of Salesforce CRM:
Increases productivity – Your business will benefit from a more reliable and effective productivity flow thanks to Salesforce CRM. Staff will also have the opportunity to work in a more efficient environment, which will boost their productivity. They will be able to function in conjunction with the operations.
Better lead management and conversions – It's only normal that if a business uses Salesforce CRM to find the warm leads, they'll make better use of their time when it comes to turning those leads into customers.
Easy opportunity management – It contains information about the goods and services and a quote for the transaction. In a nutshell, it handles all of the data that aids in identifying, progressing, and closing a contract.
Enhances customer experience – Once they do not receive the information required from a business within a certain time frame, most consumers have a negative opinion of that business. This problem can indeed be addressed by implementing Salesforce CRM, which reduces the time between a customer's question and an answer.
Easy Sales predictions – To predict a sales staff with a clear picture, multi-currency support with a formatting mode to handle the sales forecasts would be helpful.
Since we discussed both the tools, now let's move forward and discuss the core part of this blog which is.
How is Salesforce Shopify integration beneficial for your business? Top 10 benefits!
Salesforce Shopify Integration is propelling e-commerce to new heights. With the aid of this integration, you will manage an increasing amount of data simply. You can indeed simplify CRM activities and link contact information between two platforms by linking Salesforce CRM with Shopify. Salesforce CRM will help you create an accurate customer profile and analytics using the customized data it gathers, like the number of daily customers, how often they purchase, at what price, where, how, and how often they purchase. Salesforce for Shopify will then generate sales outlook reports, alert you when a lead, prospect, or client prompts a process, and show you how they compare to your defined criteria.
Any company doesn't matter how small or big it is; they all can take advantage of Shopify Salesforce integration.
Moving on, let's have a look at the top benefits of Shopify Salesforce integration:
1. Enhance Marketing Campaigns and Operations 
With Shopify salesforce integration, marketing departments can provide significant figures. Marketing reps will easily determine which campaigns are performing well and if their promotions contribute to a good result. Sales staff receive real-time reports on transactions through automated reporting, whether you're expanding your distribution channels with a multi-channel strategy and selling to big box or online stores.
2. Easy Data Availability and Accessibility 
You can indeed obtain information from other applications thanks to Shopify integration with Salesforce. This provides companies and businesses with valuable data that can be analyzed to obtain factual information that can be used to make informed business decisions to achieve its objectives.
3. Improves Customer Engagement and Retention 
Integrating Salesforce with Shopify increases the probability of adding more features for clients, causing them to become more reliant on the product. The more you focus on linking their daily resources, the more valuable your application will become in their regular life, resulting in better efficiency, productivity, and service quality.
4. Easy to handle daily business operations
For any business person, personally managing customer records, product information, and order status for one or even more online/offline eCommerce stores is not a viable choice. To address the issues and to handle orders more efficiently and effectively, some changes that come through Shopify integration with Salesforce are required.
With salesforce Shopify integration, you can leverage benefits like:
Real-time updates on multiple stores are available.
Operational costs were kept to a minimum.
Many Shopify stores can be used effectively in a single Salesforce CRM.
Efficient Brand cross-selling and up-selling that works.
The feature allows you to link supplies with just one click.
Easy Prediction of sales and inventory.
5. Provides Important Findings
Businesses can gain access to accurate and manageable reports with a successful Shopify Salesforce integration. This makes it easier for companies to make well-informed and well-structured actions.
6. Minimize unnecessary and redundant data entry
Integrating Shopify with the salesforce CRM store reduces the chance of dual entry caused by manual work.
7. Enhances workflow
With Salesforce Shopify integration, companies and businesses can achieve their core competencies by point-and-click process automation when their services, applications, and departments work together.
8. Unified Location for Client/Customer's Data
As Salesforce CRM is integrated with Shopify customer support and enables applications to help smooth out the points where customers communicate with one another. As a result, the procedures become easier, which increases overall performance.
9. Modernize business functions 
Integrating Shopify with Salesforce will help the companies and businesses to build a more effective workflow between divisions and additional features. An automated information flow will give you the information you need to make informed decisions that align with your strategic planning.
10. Easy Reporting and Accounting 
The finance dept now has access to reliable, near-real-time data thanks to salesforce Shopify integration. Consequently, finance reps will work alongside marketing reps to find high-performing goods and set profit margins in advance of potential promotions. Integration helps financial planning and analysis see incoming payments from customers if you're using a multi-channel approach. As a result, account receivable and payable management is simplified, as some distribution channels don't include immediate payment.
Conclusion 
In the end, we liked to say that, using a well-managed Salesforce Shopify integration, businesses will gain a competitive edge. This integration provides businesses with consolidated reports and dashboards that will assist users in managing various Shopify stores. A little forethought will help businesses understand the process and avoid errors that could lead to a failed implementation. So, you ought to hire a Salesforce Consulting company for a flawless and quite well Salesforce deployment service.
If you're looking for professional integration services, contact us. We would love to assist you.
Get the Conversation Started!
Get the Conversation Started!
[contact-form-7 id="34486" title="Side Form"]