Restaurant Software Development
Get an all-inclusive restaurant management software solution that helps your team manage operations efficiently, and deliver orders quickly with greater accuracy for improved customer satisfaction.
Explore Our Solutions
How Can a Software Help My Restaurant Business?
Restaurant software is an extensive range of solutions that caters to various operations in a restaurant business and streamlines the same with automation. It encompasses software and hardware tools like POS systems, inventory management software, order management system, and other tailor-made tools to leverage technology for bringing operational efficiency to your restaurant business. These solutions automate recurrent processes like online ordering, billing and invoicing, feedback management, CRM, reports, analytics, etc., so that your staff can focus on more creative tasks instead. With automation and minimum human intervention, the software also improves accuracy in the jobs done.
Talk to Consultant
Comprehensive Features Restaurant Management Software
Build your restaurant management software with features that meet your business requirements perfectly.
Want More Features in Your Restaurant Software?
Connect with our experts and begin the feature feasibility consultation today!
Book a Slot
Custom Restaurant Solutions For Your Discrete Business Needs
Enhance your vacation rental business' operations with bespoke software solutions from Matellio
Restaurant POS Solutions
User-centric restaurant POS software that seamlessly integrates payment and order processing for your restaurant and helps you manage the staff commission and inventory automatically. The software also enables you to leverage analytics and understand the customers tastes and scale your operations accordingly.
POS development
Payment processing solutions
Third-party integrations
Billing software solutions
Restaurant Ordering Systems
Make it easier for your customers to place the orders and for your staff to process them with a dedicated ordering solution. You can also integrate the software with the inventory management system of your restaurant to automate even the supply chain processes.
Food ordering website
Third-party mobile ordering platforms
Custom delivery software
On-demand food delivery apps
Restaurant Billing Software
Streamline your billing and invoicing systems with tailor-made restaurant billing software. Dedicated to the micro-service, the software will be able to process multiple invoices from multi-chain restaurant at once and store all the transactions in a centralized repository for accurate record maintenance.
Online invoicing and billing systems
Custom billing and invoicing module
Payment processing
Mobile billing apps
Restaurant Inventory Software
Make inventory management and tracking a breeze with a dedicated solution that automates order fulfillment with inventory levels and supplier management systems. Equipped with analytics the software will help you optimize your inventory purchases and implement major cost savings.
Inventory and material tracking software
Asset monitoring software
Forecasting and analysis software
Reporting and analytics dashboard
Restaurant Management Software
Build high-end restaurant software solutions that help you manage various aspects including sales, cash transactions, inventory purchasing, asset maintenance, cost optimization, feedback implementation, order processing, etc. with easy and highly intuitive interface.
Solution consulting
UI/ UX expertise
Architecture and planning
IT strategy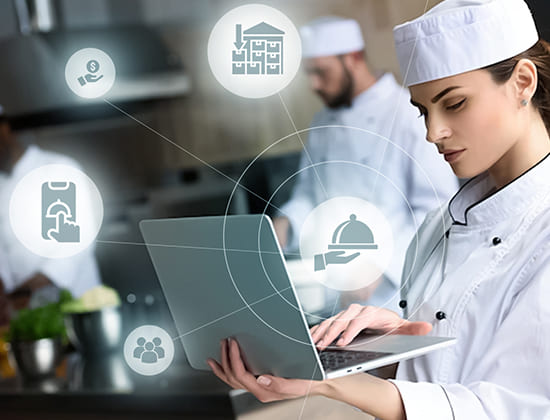 More Dedicated Solutions for Your Travel & Hospitality Business
We build bespoke travel and hospitality software with custom features to help you streamline your workflows.
How Much Does It Cost to Get a Restaurant Software Developed?
Why Matellio for Restaurant Software Development?
Frequently Asked Questions
1. How much does a POS system cost for a restaurant?
The cost to build a custom POS software for your restaurant brand depends on multiple factors. These include the features and functionalities along with the tech stack and development team breakup. Accurate estimation is possible only once you share your detailed requirements with us. 
2. What is POS Restaurant Software?
The restaurant POS system integrates the payment methods and associated aspects under a single screen. The key features and benefits of a restaurant POS include reporting and analytics, inventory management, food costing, and marketing. 
3. Which is the best restaurant management software?
There is no ideal definition of the best restaurant management software. The software that closely aligns with the needs and demands of your restaurant is the one you always need. 
4. What is a restaurant ordering system?
There is no ideal definition of the best restaurant management software. The software that closely aligns with the needs and demands of your restaurant is the one you always need. 
A restaurant ordering system is a system that lets restaurants accept orders from customers and process them. It also allows them to take orders via online modes. 
5. How do online ordering systems work?
Online food ordering lets your customers leverage the internet to get food delivered on-demand. Customers connect to their preferred restaurants and filter the food according to their favorite cuisine, price range, and more. The food then gets delivered to the doorstep via connected agents. 
6. If I hire Matellio's restaurant software development services, how will I engage with my team?
Understanding the varied business requirements and workflows, we at Matellio have devised four different engagement models, and you can choose any one of them to engage with your development team. 
Dedicated developer model 

 

Turnkey model 

 

Time and material-based hiring model 

 

Custom hiring model

 
7. What are the benefits of restaurant management software?
Restaurant management software tailored to your requirements can not only simplify the day-to-day tasks for your staff but also help you scale your operations for eventual business growth. Here are some of the benefits you can reap by investing in custom-built restaurant management software, integrated with functionalities of POS, CRM, IMS, etc. 
Quicker order processing

 

Swift payment processing

 

Customer retention 

 

Improved inventory tracking

 

Reduced chances of errors

 

Streamlined data flow for automated analytics

 

Accurate finances

 

Enhanced employee satisfaction

 
8. How much does it cost to develop restaurant management software?
The development cost of restaurant software depends on a variety of factors, which is why there is no definitive amount that you can assume. Depending on the functionalities required of the software and the amount of data it has to process, the number of users, different levels of securities you want to implement, and accessibility, the development cost can vary a lot. Moreover, this amount can vary even more when you factor in the currency differences of developing and developed nations and where your development team resides. All in all, if you want a good estimate of your project, we request you to book a free 30-minute consultation with our experts. They will discuss your requirements and then send you a free quote and development plan.