Looking for Salesforce Setup & Configuration for your Business?
Salesforce setup and configuration services for you to make the most out of Salesforce services and platforms.
Request a Free Quote
What is Salesforce Setup and Configuration?
Salesforce offers various cloud services and platforms as a service. To work in sync with your solutions and business environment, they need to be set up and configured accordingly. Setting up and configuring Salesforce would get tough by yourself, so we are here to help you.
Our Salesforce services include customizations and setting up and configuring the services you require in your own solution. We will assist you with all your Salesforce related requirements and all your software customization requirements.
Our Salesforce Setup And Configuration Services
We offer setup and configuration for all the Salesforce services on offer. We will ensure to make the services available right within your software solution, so the users can easily accommodate and use Salesforce.
Our Portfolio
For every real-world problem, we have delivered software solutions which reflect our expertise in diverse verticals.
Why Choose Matellio?
We have years of experience as a Salesforce development company, and our expertise in the field of software development has been unmatched over the years. We excel in all Salesforce customization services and can help you in building your own custom Salesforce powered solution.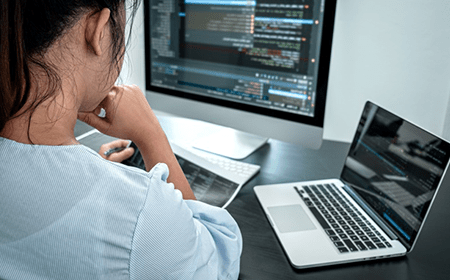 Expert developers
Hire expert Salesforce developers who have in-depth knowledge of how Salesforce works and how it should be set up and configured per your requirements.
NDA
We have strict guidelines for our employees about nondisclosure agreements. You can feel free to ask for one if you need one, we will be happy to arrange it.
Support
We provide complimentary support for over 30 days after the day of delivery, so you need not worry about any issues after deployment.
Testing
All the solutions and deployments will be thoroughly tested both automated and manually to ensure zero errors and bugs to ensure maximum user satisfaction.
Flexible Hiring
Our clients get to choose from various hiring models on offer, it can also be according to their particular needs and requirements, as we also offer custom hiring.
Expert Architects
The Salesforce solution architects will ensure maximum feasibility while setting up and configuring Salesforce for your solution, giving users maximum flexibility.
The Process of Hiring Salesforce Developers
We at Matelio believe in providing utmost ease to our clients for hiring our developers and starting their projects. Here's the process we follow.
Request For Quotation

Consultation from BA
Market Analysis
Feasibility Check
Estimated Cost & Time

Requirement Planning

NDA
Initial Design
Estimated Work Hours
Sprint Planning

Development and Testing

Building the team
Documentation
Development
Testing

Support and Maintenance

Software Updation
Adding Custom Features
Post-launch Support
Backups
Frequently Asked Questions
Answering the most common queries by our clients, at one place.
1. What exactly does Salesforce setup and configuration mean?
Salesforce is a wide range of services and products which need to be customized per every different custom software solution. Our setup and configuration services deal with giving our clients the best Salesforce experience possible.
2. Who are Salesforce setup consultants?
Salesforce setup is a complicated job, and it is the consultants who ensure maximum flexibility while a company makes the switch to Salesforce. We, as Salesforce setup consultants, ensure our clients get the most of their investment under most circumstances.
3. I am looking for Salesforce Consultation services, would you be able to help?
We have created various custom solutions for our clients in the past, and our Salesforce setup and configuration consultants to help you build a perfect solution for your business.
4. Will you configure Salesforce according to my software?
Yes, the complete package will be configured according to your requirements and software. We will consult you as well as consult you with Salesforce configuration best practices to ensure maximum RoI and maximum efficiency of your employees.
5. How much does it cost to set up and configure Salesforce?
The cost will depend on a lot of factors which cannot be predefined by us without taking a look at the software and your requirements. As soon as you share your requirements, our Salesforce setup consultants will get in touch with you to share the cost.
6. Can you assist me with choosing the right Salesforce services?
Yes, as a part of our consultation services, we will help you with your complete journey with Salesforce. We will ensure to choose the right service for you and set up and configure them just the way they best suit your needs and business requirements.
7. Do small companies require Salesforce Setup & Configuration services?
It doesn't really matter what size of your company is, what actually matters if the size and complications in your pre-built solution or the custom solution you want built.
8. Why should I choose Matellio as a Salesforce Setup and Configuration expert?
Our expertise as Salesforce service providers have only grown and expanded over the years, our Salesforce setup and configuration consultants and analysts are some of the in the industry.
9. Can Salesforce Setup and Configuration be done in a pre-built solution?
Even though it is highly recommended to use a custom solution, we can set up and configure Salesforce per your older solution with ease and you will be able to use it to the fullest.
10. Will you setup and configure Salesforce per my mobile application?
If you want a mobile app built with Salesforce services integrated in it, we will be happy to build one for you, you can choose between the PaaS development path or a custom mobile app.