Custom Accounting Software Development
Satisfy your business-specific accounting needs, including payables and receivables management, tax management, payroll management, and more, with a custom accounting solution. Streamline your company's cash flow, ensure real-time financial data sync, and promote paperless operations with our cutting-edge software development services.
Get a free quote!
Facilitate Digital Workflows with Custom Accounting Software
As a leading fintech software development company, we aim to offer you cutting-edge services that resolve all your finance and accounting concerns. With a dedicated accounting solution, you can automate various mundane tasks, including payroll, billing and invoicing, general ledger, etc. You can track the flow of money for internal or external auditing. Identifying the general patterns detecting fraud in your finances is also a perk of adopting our smart accounting solutions.
Talk to Consultant
Features that Ensure Top-Notch Accounting Software
Explore a wide range of advanced features that build success for your custom accounting software development.
Need Exclusive Features for Your Custom Accounting Software?
Connect with our experts to get the best features and technologies for your custom accounting software development.
Book a Slot
Our Accounting Software Development Services
Explore the cutting-edge accounting software development services offered by our experts to promote growth and innovation in your business.
Accounting App Development
Leveraging our years-long expertise, our experts can develop custom accounting apps tailored to your business requirements. With our custom accounting mobile application, you can easily access functionalities like invoicing, accounts management, and transfer management.
Hybrid and Native App Development
API Development and Integration
UI/UX and Testing Services
App Support and Maintenance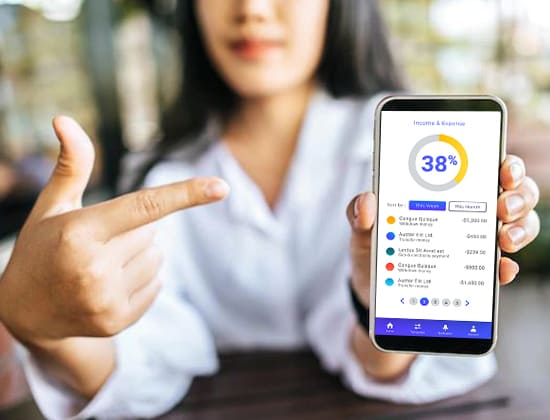 Software Development Consultation
You get a free expert consultation and in-depth market and competitor analysis services by partnering with our experts. We also help you explore the best technologies, features, and platforms for your accounting solution.
MVP Creation
Architecture Re-Engineering
Technology Consulting
Code Review
SaaS Services
Whether you need to migrate to a cloud-based platform or you need to launch a cloud-based accounting software, we can satisfy all your business needs. Our cloud experts can help you secure your data and enhance the capabilities of your solution.
SaaS Product Development
Data Migration
Platform Migration
Technology and Feature Updates
Legacy Software Modernization
As a leading fintech software development company, we can help you modernize your existing legacy solution to secure and feature-rich accounting software catering to modern needs. Get started with efficient accounting software development.
Software Enhancement Services
Features Addition
Testing Services
Next-Gen Tech Implementation
Other Fintech Solutions We Can Build for You
We offer a wide range of custom fintech solutions satisfying the modern-day business challenges.
Frequently Asked Questions
1. What is accounting software development?
Accounting software development is a fintech software development service that deals with creating and deploying custom accounting solutions. With our custom accounting software development, you can easily manage all your finance and account-related tasks like paying/receiving payments, general ledger entries, payroll, etc. Plus, you can even include the next-gen AI algorithms to get accurate and real-time market metrics for your finance firm.   
2. How do you create a custom accounting solution?
You can simply follow these steps to kickstart your custom accounting software development:  
Fill out our consultation form

 

 

Discuss your ideas and requirements with our experts

 

 

Choose the best accounting software developers

 

 

Select the best features and designs for MVP creation

 

 

Start your accounting software development with our experts

 

 

Test your custom solution

 

 

Deploy on various platforms

 

 
3. How long does it take to create an accounting software?
The overall time required for your custom accounting software development will depend on your set of requirements. For instance, if you choose to build an accounting software with complex features, it will surely require more time than a custom accounting solution with basic features. Hence, the best way to get an accurate time estimate for your custom accounting software development is to consult with our experts. They will analyze your requirements and offer you an exact time estimate for your project. Fill in the form below to book your free slot.    
4. I already have a desktop accounting application. Can your accounting software developers help me develop a web-based application that runs on mobile?
Yes, you can easily develop a feature-rich accounting app with our experts on your business needs. We offer a comprehensive range of accounting software development services that can satisfy all the needs of your finance and banking firm within your budget.   
5. Can you integrate my choice of features into the custom accounting software?
Yes, definitely! We always welcome new and innovative ideas from users. You can discuss your ideas with our development team to get a clear picture of the feasibility of the concept.  
6. What other services do you offer for my customized accounting solution?
We offer a wide spectrum of professional accounting software development services tailor-made for your project, from idea validation and data migration to software/app development and even automated testing and maintenance. You can easily explore our offering by connecting with our experts. Just fill in the form below to get started!  
7. What engagement models do you offer to hire accounting software developers?
We offer four engagement models that you can leverage to hire the best accounting software developers for your project.  
Dedicated developer model

 

 

Turnkey model

 

 

Time and material-based hiring model

 

 

Custom hiring model
8. What is the cost associated with custom accounting software development?
Custom accounting software development considers many factors. Hence, we need to calculate many things before making any final estimation. For instance, the choice of technologies, the complexity of the features, the testing methods opted by you, and the number of accounting software developers hired by you impacts the overall cost of your custom accounting software development. You can book a free 30-minute expert consultation to get an exact quote for your custom accounting software development right away!