Calorie Tracking App Development
Ensure success for your fitness and wellness business by investing in our scalable and feature-rich calorie tracking app development.
Get a Free Quote!
Future-Proof Your Brand with a Highly Customized Calorie Tracking App
People are actively looking for a reliable wellness and nutrition tracking app that can help them maintain their body health. However, the elevated prices of wellness firms and the cost of hiring a personal nutritionist forced people to move towards a more cost-effective and accessible platform. That's where calorie tracking apps came to play.
Make your brand more accessible and popular by offering your clients a complete fitness and diet tracking package at the ease of sitting at their homes and offices. Enable them to track every food they eat, and every activity they do and help them achieve their fitness and wellness goals with engaging and mobile-friendly features. Get started with a professional calorie tracking app development today!
Explore Best Calorie Tracking App Development Models
Fitness Experts
Offer your services easily to millions of people world-wide and track all your users with a dedicated calorie tracking app development.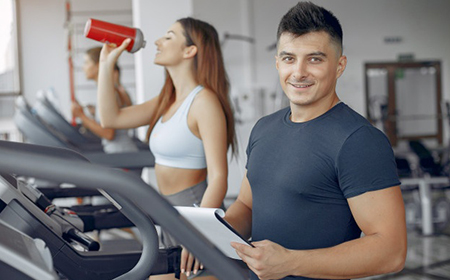 Aggregators
Offer custom calorie tracking apps to various healthcare experts, gyms, and yoga trainers by your brand name and make easy profits.
Dieticians
Elevate your diet and nutrition business and grow your brand name by offering your services digitally with a calorie tracking app.
Learn from the Best Calorie Tracking Brands
Select any of the popular calorie tracking apps and we promise to deliver you a similar app with your choice of features, design, and tech-stack.
We Turn Your Ideas into a Profitable Reality
With our best certified resources and years of expertise in calorie tracking app development, we promise to deliver you an advanced and user-friendly calorie tracking app that can help you play in the long run. Right from features to tech-stack, you get a next-generation and reliable app development that promises better user-experience, competitiveness, and boosted revenues.
Launch a Future-Ready Calorie Tracking App
Leverage our free consultation services and year-long experience to launch your next-gen and feature-rich calorie tracking app that yields profits for years to come.
Talk to Experts!
Our Portfolio
For every real-world problem, we have delivered software solutions which reflect our expertise in diverse verticals.
Frequently Asked Questions
1. How do I create a calorie tracking app?
To create an efficient and cost-effective calorie tracking app, you need to follow some crucial steps like: 
Identify a suitable target market and audience

 

Validate your idea with experts

 

Analyze your competitors

 

Hire a professional app development company

 

Choose advanced features and reliable tech-stack

 

Create an MVP with the best designs

 

Pay attention to UI/UX

 

Follow agile development methodology 

 

Test your app using manual/automated tools

 

Deploy on various online platforms

 
2. How much does it cost to develop a calorie counter app?
The overall cost of developing a calorie tracking app depends on many crucial factors, and majorly on your requirements. Features you have opted for, expert consultation, resources hired, testing method, designs, and much more; there are plentiful factors that contribute to the cost of your calorie tracking app development. Hence, if you want an exact quote of your project, then consulting with our experts is the best way. 
3. How do I make an app like MyFitnessPal ?
You firstly need to carefully analyse the successful models and features that makes MyFitnessPal a hit in the market. Then you need to hire some of the best certified and experienced developers that can clone all those features and tech-stack in your custom application efficiently. Next, you need to market your app well before launch, and finally after testing, you can deploy your app on your preferred platform.  
4. How do calorie tracking apps work?
Calorie tracking apps work on a real-time basis. The type of food you eat or the activities you do are all tracked by the calorie tracking app or the device with which the app is connected. As such, all your movements and calories burned or intake is tracked and notified to you in real-time.  
5. What is the best calorie counter app?
There are many best calorie tracking apps that are playing big in the market. To name a few, we have: 
Noom

 

MyFitnessPal

 

Calorie Counter

 

FitBit

 

Lose It

 

Rise

 
6. What resources do I need for calorie tracking app development?
For a feature-rich and efficient calorie tracking app development you would need to have certain crucial resources with you: 
Project manager

 

Tester

 

Front-end developer

 

Backend developer

 

UI/UX designer

 

API developer

 

Experts for idea validation

 

Digital marketing team
7. How to monetize a diet and nutrition app?
There are many ways through which you can earn revenues for your custom calorie tracking app. For instance, offering subscription-based models to your users is one way of earning money. Besides that, charging a commission from the fitness experts to list them on your app is also one of the successful ways that is adopted by many leading apps. Running third-party ads, freemium models, and cost-per-download are some of the other common and successful monetization models for your calorie tracking app. 
8. What is the time required for creating a custom calorie tracking app?
Similar to the cost, the time required to create your own calorie tracking app depends on the level of customizations and complexity of the app. For instance, if you plan to create a highly complex app for a large number of users, and with advanced features, then the time required will be more as compared to a simple app with some basic features. Hence, you should discuss all your requirements with our experts to learn about the exact development process and time required.