Highly-Customizable Courier Delivery App Development
Set your foot in the advanced digital era, and make great profits while satisfying your customer needs to the fullest with our cost-effective and professional courier delivery app development.
Get a Free Quote!
Elevate your Business with Courier Delivery App Development
In today's fast-paced world, the health and fitness realms are getting more important than anything else. That's why people are actively investing in digital health and fitness training apps to reach a wider audience and generate more revenues with less effort. With our fitness app development, you can also turn your idea into a profitable reality.
Whether you are a startup, or a Fortune 500 company, our proficient and tech-savvy engineers have the latest and reliable technology tools and services to solve your personalized issues in the most effective manner. So, become a patriot of the leading brands by getting started with an on-demand courier delivery app.
Professional On-Demand Courier Delivery Apps for Every Business
Startup Model
Get started with a profitable startup and ensure hundred percent returns on your investments with our courier delivery app development.
Industry-Specific Model
Elevate your business and reach the masses by offering home deliveries to your customers with an on-demand courier delivery app.
Aggregator Model
Partner with multiple courier agencies and earn huge profits with less efforts by offering them digital platforms to grow with a dedicated app.
Step into the World of Market Leaders
Choose from a popular range of global courier delivery apps and make your custom clone a hit with less effort.
Let's Step into a Profitable Digital Era
Start your custom courier delivery app development with our free expert consultation services and ensure 100% success for your on-demand courier delivery app.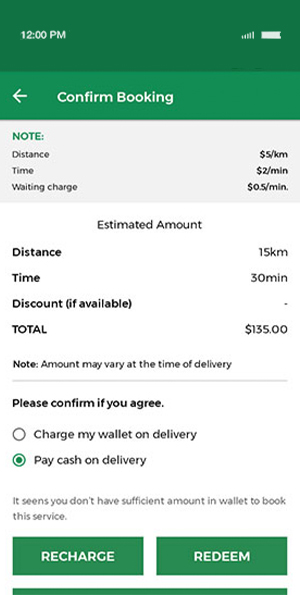 We Make Your App Better
Discover next-gen technologies and custom features for your custom courier delivery app development that makes you a pioneer in the digital world.
Talk to Experts!
Our Portfolio
For every real-world problem, we have delivered software solutions which reflect our expertise in diverse verticals.
Frequently Asked Questions
1. How does a courier delivery app work?
Courier delivery services automate the process of logistics and shipping the parcels via an app that manages and records all delivery updates. These essentially track all details of the courier cargo from Android or iOS operated phones with computer information along with time and location. 
2. How to make an on-demand courier delivery app?
Creating an on-demand courier delivery app that matches the functionalities of the leading courier apps is somewhat a tedious task, especially for those who are starting new. However, with the correct guidance and resources, you can develop a feature-rich courier delivery application in no time. Here are all the steps you need to consider for developing your custom courier delivery app. 
Validate your idea

 

Choose the latest and most reliable tech-stack

 

Finalize the features and designs

 

Test your app

 

Submit on various platforms 

 
3. How much does it cost to create a delivery app?
Calculating the cost estimation for an on-demand courier delivery app involves a lot of calculations and analysis. For instance, the choice of technologies, complexity involved in the app development, features, design components, professional experts, and testing methods; all these impacts the overall cost of development in some way or the other. Hence, the best way is to consult with an expert courier app development company that can analyze your requirements and can offer you a personalized quote for your project. 
4. What is the best courier app?
There are many prominent courier apps that you can leverage to build your custom courier app clone. To name a few, we have: 
Axon

 

OnFleet

 

OnnAway

 

DeliveryMark
5. How much time is required to create a custom on-demand courier delivery app?
Similar to cost, the time required to build a custom on-demand courier delivery app depends on multiple factors like, 
Tech-stack

 

Development method

 

Creation of MVP

 

Testing method

 

Hiring dedicated experts

 

App submission, and more

 
6. What are the technologies used to create a courier delivery app?
For building an efficient and futuristic on-demand courier delivery app, our certified engineers use JavaScript, HTML5, Kotlin, Android Studio, Objective-C, Swift, React Native, Flutter, and more. You can always consult with our tech-savvy engineers to know more about courier delivery app development. 
7. Do you offer app submission services with courier delivery app development?
Yes, we can help you submit your app on all the platforms as per your needs including the Play Store/App Store. However, that will impact the overall time and cost required for courier delivery app development. That's why you need to mention it in the initial requirements document before initiating the project.  
8. How do I ensure a quality development?
We follow agile methodology while developing and testing your app that ensures a quality check at every step from your end. That means right from features, to testing methods, everything is verified by you which eventually makes your app as per your expectations. 
9. Why invest in on-demand courier delivery app development?
Online delivery market has reached great heights in just a small span of time due to the ease and efficiency it offers to the customers. Besides that, businesses also witnessed increased sales and profits with online deliveries and so they readily accepted the online courier delivery applications. Due to all such amazing benefits, the market for online courier delivery is rising exponentially, and marketers are investing into this futuristic platform actively.  
10. Tell us more about your post-launch support services?
We are known for offering reliable, next-gen, and cost-effective post-sales services to all our clients. Whether it be updating your technologies, or adding new features, or even integrating third-party capabilities in your app, we have everything you need to make your app a hit in the market. Fill our form below to know more about our offerings.