Custom Fitness App Development
Launch a smart and feature-rich fitness training app with your design and tech stack choice by investing in custom fitness app development.
Get a Free Quote!
Start a Profitable Venture with Reliable Fitness App Development
In today's fast-paced world, the health and fitness realms are getting more important than anything else. That's why people are actively investing in digital health and fitness training apps to reach a wider audience and generate more revenues with less effort. With our fitness app development, you can also turn your idea into a profitable reality.
Right from idea validation to final product development, and even testing, you can decide everything for your custom fitness training app. Our fitness app developers ensure to deliver a cost-efficient and reliable fitness app development that works seamlessly on every device and perfectly caters to all your business requirements.
Exemplary Fitness Training Apps for All
Gym Trainers
Reach to a broader audience and make more money with your online fitness training services with fitness app development.
Aggregators
Offer a versatile fitness training app in your brand name to multiple gyms and personal trainers to earn more significant profits.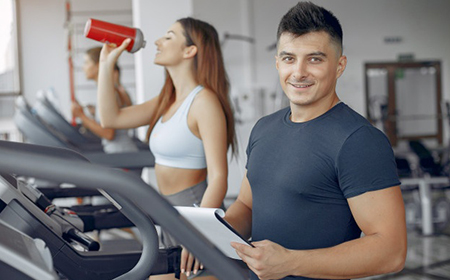 Dieticians
Expand your nutritionist business across the globe and become a global brand with custom fitness app development.
Become a Pioneer in Fitness and Healthcare Market
Choose from any popular fitness training apps and get a similar fitness app development based on your business requirements.
Leverage Next-Gen Features for your Fitness Training App
Launch an advanced and user-friendly app catering to all your business needs at your budget. Right from AI and ML to IoT and AR/VR, we have expertise in creating all sorts of next-gen fitness training apps.
Fitness App Development Made Easy
We understand your business problems and offer you fully customized fitness apps that match your requirements and budget.
Talk to Experts!
Our Portfolio
For every real-world problem, we have delivered software solutions which reflect our expertise in diverse verticals.
Frequently Asked Questions
1. How do I develop a fitness app?
To create a fitness training app, you firstly need to validate your idea with experts, and they should focus on identifying a promising market with a maximum target audience. After that, you need to: 
Choose a development platform

 

Hire professional fitness app developers

 

Include next-gen technology and features

 

Create an MVP before the actual development

 

Follow the agile process for fitness app development

 

Test your app

 

Deploy on various online platforms

 
2. How much does it cost to develop a fitness trainer app?
The cost of developing your custom fitness app will depend on various factors and, majorly, your requirements. Whether it be the tech-stack of your fitness training app, the features, or even the number of resources you have hired for development and testing, your business needs and budget will eventually make up the overall cost of fitness app development. Hence, it is always better to first discuss your needs with experts for an exact estimation.  
3. How long does it take to develop a fitness app?
Similar to cost, the time taken for fitness app development depends on your business requirements, and some other factors, such as: 
Idea evaluation and roadmap creation

 

Choice of technology

 

Customizations

 

MVP Creation

 

Development

 

Testing Method
4. What makes a fitness app successful?
Including next-gen features and tech stacks like AI and ML will make your fitness training app successful. Besides that, you also need to analyze your competitors to ensure that you have the best competitive themes and features for your custom fitness training app. 
5. How do I monetize my fitness app?
You can adopt many successful models for monetizing your fitness training app. For instance, you can display third-party ads not related to your niche on your fitness training app to earn money. Besides that, offering a subscription-based model to your valuable users is also one of the successful models to earn extra revenues for your app. 
6. Why should I invest in building a fitness app?
The current market for fitness app development stands tall and is expected to reach $14.6 billion in the coming years. Furthermore, with the emergence of pandemic situations, the need for online fitness training apps have surged more than ever. All such conditions have eventually facilitated the growth of fitness app development and made it a profitable niche.  
7. Which is the best fitness app?
There are many prominent fitness apps that today are playing big in the market. To name a few, we have: 
FitBit Coach

 

Home Workout

 

FitOn

 

Charity Miles

 

Google Fit

 

8fit 

 
8. How does a fitness app work?
The working of fitness apps is quite simple. The users have to pair their wearable devices with fitness apps, and then each of the activities they do gets tracked by that app. Furthermore, all those details of the user are then shared with their personal trainers (if they have opted), and then they get suggestions on their future exercises or meals.  
9. What technology is used in a fitness tracker?
Technologies like AI and ML are prominently used in fitness app development these days. Besides that, python, java, and other technologies are also used depending on your type of development platform.  
10. What services do you offer for fitness training app development?
We offer a wide range of professional app development services to make your fitness training app a hit in the market. Our cost-effective services include: 
Digital consultation

 

App development

 

automated/Manual testing services

 

UI/UX services

 

MVP creation

 

Project management

 

App maintenance 

 

Data migration and more