Looking to Hire a Laravel Developer?
We can help you find the perfect developer for your needs. Our team of vetted and experienced Laravel developers can help you build a high-quality, secure, and scalable web application.
Fuel Your Business with Top-quality Laravel Development Services
Get started with our extensive range of Laravel development services from our experts at cost-effective prices.
A Certified Laravel Development Company You Can Trust
Develop next-gen mobile and web applications with Matellio's proficient Laravel developers, and make your business operations delightful and profitable. Hire dedicated Laravel developers to upgrade to a more professional and intuitive platform in just a few days. We, at Matellio, have years-long experience in delivering smooth and error-free web apps to a variety of businesses under different industry-verticals.
Whether a startup, or a Fortune 500 company, we have a record of delivering quality and secure Laravel applications at cost-effective prices. That's why we are always the first choice of marketers in building an efficient web and mobile application. Witness a surge in your profits and efficiency with our top-class development services. Hire our Laravel developers at flexible hiring plans today and get started with your project!
Hire Best Laravel Developers in Days and Not Months!
We have certified Laravel developers that can cater to your business's development needs.
Build your team today!
Why Use Our Laravel Developers for Your Enterprise Solutions?
Discover our best-in-class and cost-effective services that make us unique from others.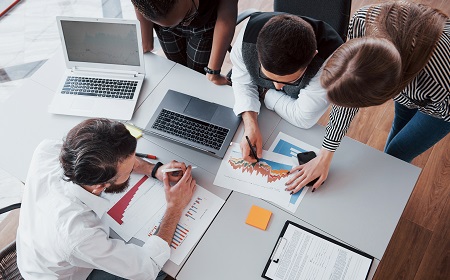 Decades of Experience
We make digital transformation easy with our skilled workforce. Our Laravel developers have years of experience in developing quality applications.
Quality Development
We believe in delivering quality with great customer experience. That's why we follow Agile methodology to make the best use of resources.
Secure Applications
Our expert Laravel developers promise to deliver a completely secure and reliable application with custom and full-proof security features.
Flexible Hiring Modules
Our hiring models are so flexible and are perfect to cater to different needs of our clients. You can choose from what best suits you.
No Hidden Costs
Scale your business applications as per your growth. Hire dedicated Laravel developers at great pricing models based on your needs.
Best Prices
All our past clients have witnessed a 50% reduction in development costs than our competitors. That shows our pocket-friendly approach.
Hiring Resources is Just a 4 Step Process
Hire Dedicated Laravel Developers in no Time. See how we work!
Our Portfolio
For every real-world problem, we have delivered software solutions which reflect our expertise in diverse verticals.
Frequently Asked Questions
Answering the most common queries by our clients, at one place.
What is Laravel and why it is used?
Laravel is an open-sourced web development framework that makes the web development process much smooth and effective. It eases out the common development tasks like authentication, session, routing, etc. without affecting the functionality of the app.
Who is using Laravel?
Laravel is being used by many leading brands of the global market, like:
9GAG
BBC
Pfizer
PedidosYa
About You
Ratio
Twitch
LinkedIn
Accenture
Square
Groupon
Is Laravel good for big projects?
Laravel is the ideal framework for big websites and SaaS applications because its built-in features make it effective to handle any sort of complexities.
Is Laravel good for small projects?
Certainly. In fact, Laravel allows you to build applications quickly and easily as it is a well documented and largely supported programming language.
What is the project management system that Matellio follows?
We assign a dedicated project manager to each project who serves as a point of contact for you. Additionally, the teams are accessible to the clients round-the-clock with cutting-edge project tracking tools wherein they can communicate with each other as well as assign tasks and stay updated on the same.
Featured Blogs Related to Laravel Development