Hotel Booking App Development
Turn your hotel into a profitable venture and offer the best customer-experience across the globe to lure more customers with budget-friendly hotel booking app development.
Get a Free Quote!
Expand Your Business with a Versatile Hotel Booking App
Lure customers from different parts of the globe, and offer them fully digital experience by investing in hotel booking app development. Make your app your way by selecting competitive features, reliable tech-stack and an aesthetic design that matches your standards.
As a leading hotel booking app development company, we ensure to offer you the best for your business idea. Right from idea validation to agile hotel booking app development, get the most of our scalable app development services to make your brand a hit in the hospitality industry.
Make Your Brand Accessible with Our Unique Booking App Models
For Travel Agencies
Increase the revenues of your online travel agency by offering a dedicated hotel booking app to your target customers across the globe.
For Aggregators
Partner with multiple hotels and restaurants and offer them digital experience to gain profits easily with hotel booking app development.
For Hotel Chains
Expand the reach of your hotels and make more profits while offering digital user-experience with a dedicated hotel booking app.
Become a Pioneer in Hospitality Market
Select any of the popular hotel booking applications and we promise to make an exact custom clone with your choice of features, designs, and technologies.
Stand Apart with Next-Gen Hotel Booking App Development
Generate better revenues and profits for your hotel, and reach to global masses easily with hotel booking app development. We ensure to offer you a next-gen custom hotel booking app that matches your services.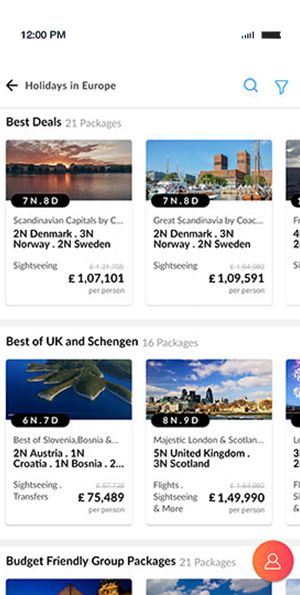 Transform Your Vision into a Successful Reality
Get started with a feature-rich hotel booking app development tailor-made to your requirements and budget.
Request a quote!
Our Portfolio
For every real-world problem, we have delivered software solutions which reflect our expertise in diverse verticals.
Frequently Asked Questions
1. What is a hotel application?
A hotel application is a dedicated platform from where the owners of the hotel can run their business. Right from promoting their apps, to managing the bookings and offering real-time discounts to the customers, a custom hotel booking application is capable of optimizing all your hotel operations efficiently.  
2. How do I make a hotel booking app?
To make a feature-rich and competitive hotel booking app, you need to firstly understand your main goal and target audience, once that is done, there are some steps that needed to be followed: 
Find a promising target market

 

Validate your idea from industry experts

 

Find a reliable hotel booking app development company

 

Check for advanced features and tech-stack

 

Finalize an aesthetic design for your hotel booking app development

 

Create an MVP before final development

 

Choose agile methodology for hotel booking app development

 

Test your dedicated mobile app

 

Deploy it on the Play Store/App Store

 
3. How much does it cost to develop a hotel app?
The cost of creating any custom mobile applications takes many factors into consideration and hence is difficult to calculate at first. You need to have a lot of affirmed factors in hand like the choice of tech-stack, inclusion of features, number of resources required, method of testing the app, and much more. Hence, if you want to get an exact quote for your hotel booking app development, make sure to consult with an expert development company.  
4. How can I make an app like Trivago?
Making an app like Trivago is not an easy task, as you need to have a complete knowledge of its infrastructure and working technology. Besides that, the marketing strategies, selection of features, and ensuring a simpler interface also adds to the confusion of Trivago like app development. Hence, you need to have a professional team of developers from a reputed hotel booking app development company to ensure a quality and expected app development.   
5. How do booking platforms make money?
Booking platforms have many restaurants and hotels listed on their apps. As soon as a visitor books any of those hotels, the app asks for a certain amount of commissions from those hotel owners, and that becomes their major source of earnings. Besides that, many of the apps also opts for subscription models and third-party advertisements as their monetization models for earning extra.   
6. Which are the best app for hotel booking?
There are many popular and successful hotel booking applications that are playing big in the market, like: 
Expedia

 

Travelocity

 

Agoda

 

HotelTonight

 

AirBnB

 
7. How much time is required for hotel booking app development?
Similar to cost, the time required for your custom hotel booking app development depends on multiple factors and majorly on your requirements. Whether we talk about your choice of tech-stack, or the level of customizations, or even the method of testing, everything will impact your overall cost of hotel booking app development. Hence, the best way is to discuss your ideas with our experts to get an accurate time for app development.   
8. Why should a hotel have an app?
A hotel booking app will offer better loyalty rewards and digital experience to your users. Moreover, right from inventories, to accounts, and even marketing, everything could easily be achieved with a dedicated hotel booking app development. Apart from that, satisfying your customer needs, and making you accessible across all the boundaries is also one of the perks of investing in a hotel booking app development.