Manufacturing Software Development
We have years of expertise creating diversified, higher-performing, more affordable manufacturing software solutions for increased production and efficiency. Matellio helps manufacturers keep up with shifting market dynamics, from production planning to material handling to the supply chain, thereby improving performance and output and lowering total costs. In light and heavy manufacturing sectors, like aerospace, machine building, textile, and transportation, we can assist you with projects of any size and difficulty, whether you need to redesign and modernize out-of-date systems or incorporate a new software system into your infrastructure.
Our Software Development Services for Manufacturing Industries
Matellio offers comprehensive services to manufacturers of all scales.
Custom Software We Develop for Manufacturing Industries
Enhance Operation, automate business processes, or address a business problem with us!
Manufacturing Management Software
We create software for managing operations including accounting, sales, purchase management, human resources, etc. Embrace next-gen technologies and industrial automation tools to manage your various manufacturing processes, making them more automated.
Manufacturing Workforce Management Software

 

Lean Manufacturing Software 

Manufacturing Production Software

Manufacturing Project Management Software
Manufacturing Process Software
We thoroughly understand software processes that will keep any manufacturing company operating smoothly and effectively. We have the knowledge and experience to developing the software applications from consulting, migration, development to installation. We strive to comprehend all the necessities of your business to create the powerful software.
Manufacturing Automation Software

 

Equipment Maintenance Software

Production Planning & Reporting  

 

M

anufacturing Process Software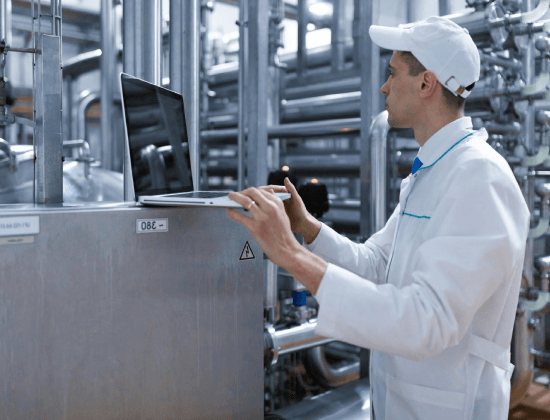 Software for Streamlining Manufacturing
You can rely on us to streamline your operations across finance, supply chain, and manufacturing with a custom software solution that includes essential features. Our specialized development services help manufacturers develop software to implement efficient workflows across all divisions.
Custom CRM Software

Custom ERP Software

Manufacturing Scheduling Software

 
Want to Develop a Software for Manufacturing Industry?
Why Matellio for Custom Software Development?
Our Next Generation Capabilities for Manufacturing Industry
Discover the next-gen technologies we offer for manufacturing companies.
Our Global Clients
Clients across the globe trust us with their digital transformation and software development needs.






We Create Compliant Softwares for Your Business
Frequently Asked Questions
1. The Manufacturing Industry Requires What Kinds of Software?
The manufacturing sector uses various software, including computer-aided manufacturing, enterprise resource planning, product management, industrial IoT solutions for asset management, and order management and inventory software.  
2. How Much Does Custom Software Development Cost?
Each project is assessed uniquely depending on its objectives and specifications. As a result, before determining the product's cost, we need to understand its emphasis. Custom software development cost varies according to factors like project size, its complexity, technologies used and more. 
3. Do You Create Any Specific Types of Manufacturing Software?
No, we are open to developing every type of software. Whether it's about software, web applications or mobile apps, we design everything from scratch or also we can alter existing product based on the client's requirements.
4. How do you develop custom manufacturing software?
Following are the steps that we include to develop any custom manufacturing software:  
Understanding and Analysis of Requirements
Architecture and Design
Development and Implementation
Testing
Training, and Maintenance
5. How do you ensure the security and confidentiality of our project?
The IP contract covers this clause. Matellio and the customer also sign an NDA containing the same. The same contract is being signed between Matellio and its employees. We also regularly train employees and audit our procedures. These actions guarantee the ongoing security of the intellectual property of our clients.  
6. How long does it take for a team to develop a manufacturing software?
The manufacturing software development time depends entirely on the type of the software you want to create; the bigger and more complex the software, the longer it will take.  
Development timeline also depends on number of resources working on your project. 
Featured Content to Help You Learn More About App Development