Custom Meditation App Development
Grow your fitness and wellness brand and offer your services to millions across the world to gain better revenues and brand name with our cost-effective meditation app development.
Get a Free Quote!
Ensure 100% Success with Custom Meditation Apps
In today's fast-paced world, the health and fitness realms are getting more important than anything else. That's why people are actively investing in digital health and fitness training apps to reach a wider audience and generate more revenues with less effort. With our meditation app development, you can also turn your idea into a profitable reality.
With a custom meditation app, you can easily create multiple meditation sessions or live classes and can reach millions. Allow your valuable customers to enjoy all your services anytime they want. Invest in a reliable and feature-rich meditation app development and turn your fitness brand into a global meditation centre.
Versatile Meditation App Development for Everyone
Yoga Trainers
Elevate your yoga training business by offering your services to millions while maintaining social distancing with meditation app development.
Aggregator
Connect with multiple yoga and fitness trainers and offer them custom meditation apps with your brand name to earn easy profits.
Healthcare Experts
Satisfy the mental and physical health of your patients and grow your name easily with a dedicated meditation app development.
Listen to Popular Brands of the Market
Ensure success for your meditation app development by choosing any of the popular meditation and fitness apps that are already a hit in the market.
Why Choose Us for Meditation App Development?
With next-gen tools and AI models, we promise to make your custom meditation app future-proof and user-friendly. Our certified developers has years-long expertise that helps them with an error-free meditation app development.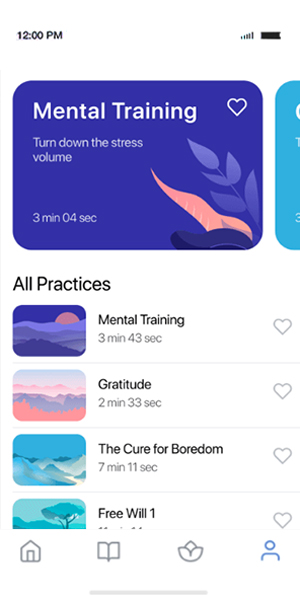 We Value Your User Satisfaction
Offer a complete digital user-experience to your valuable customers and grow your brand across the boundaries with best features and designs matching your brand.
Talk to Experts!
Our Portfolio
For every real-world problem, we have delivered software solutions which reflect our expertise in diverse verticals.
Frequently Asked Questions
1. What is a meditation app and how does it work?
A meditation app is an amazing mobile application through which you can offer all your meditation and fitness services to millions of users without actually visiting them. Right from live sessions to customized plans, articles, and even meal charts, everything could easily be shared with meditation apps, and that too at the user's pace. You can even collect your fee in an online mode instantly with a meditation app, and can track all your customers at once.  
The users download the app, and then create their profiles. After that, they either use a popular meditation plan or create custom ones depending on their needs while making the payment. Once that is done, the admin or trainer can track the progress or can remind them if they miss their schedule in real-time with a personalized message. 
2. How much does it cost to develop a meditation app?
The cost of developing any sort of custom app depends majorly on your business requirements and market trends. For instance, if you chose all the advanced features and latest tech-stack, then the cost of development would automatically be higher than the normal meditation app development cost. Hence, the best way to get an exact quote for your custom meditation app would be to consult with an expert. An expert would carefully evaluate your requirements and would present you with an efficient plan that matches your needs and budget. 
3. How do meditation apps make money?
Usually, meditation apps make money by offering subscription-based models to the customers. Besides that, the trainers listed on the app also need to pay a fee for prompting their name in the global market.  
4. Are meditation apps growing?
Yes, meditation apps are quickly gaining a huge momentum due to their capabilities of offering services at the ease of the users, and low cost. Besides that, the current pandemic situation also facilitated the growth of meditation apps to get peace from the disturbing conditions. Hence, if you plan to invest in any sort of app, then meditation app development is one of the sure-shot ways of getting success and quick returns on your investment.
5. Whar are some popular meditation apps?
There is a plethora of meditation apps that are today trending in the global market. You can select any of the apps for your meditation clone app development. To name a few, we have: 
Calm

 

Headspace

 

Buddhify

 

Insight Timer

 

Unplug

 

Simple Habit

 
6. Hope much time is needed for creating a meditation app?
Similar to cost, the time for developing your custom meditation app depends on some major factors like: 
Project management

 

MVP creation

 

App development

 

Idea validation

 

Quality assurance method

 

App maintenance, and more

 
You can consult with an expert to get an accurate time estimation for your meditation app development. 
7. How can I ensure a quality meditation app development?
We follow an agile methodology that ensures your app is built with maximum involvement from your side. Besides that, we even follow the best security and development practices that promote a safe and next-gen app development that matches your budget and customer needs.
8. How do I make my own meditation app?
To create your custom meditation app, you need to follow certain steps, such as: 
Understand and identify your main target location

 

Analyse your competitors for best features

 

Choose next-gen technology and features

 

Create an MVP before development

 

Create your app development team

 

Develop your app

 

Test your meditation app