Are you ready to be a part of the AI industry that is expected to reach USD 1,811.8 billion by 2030? Yes, then what's stopping you? Is it the lack of ideas or the fear that you might not be able to survive the test of time? Whatever the case, don't be worried sick. Here, we've curated a list of 40 profitable AI business ideas to help start your Artificial Intelligence business and become famous.  
In case you already have an idea about what you want. Connect with our team of expert developers to get the app.  
Why Should you Start Business with AI Ideas?  
With almost $41 billion invested in a system based on Artificial Intelligence, it is the next big thing. With that said, it's the right time to start working on AI business ideas & keep up with the pace of changing business trends.  
Though many people are skeptical about AI business, this is why you need to understand that you cannot know what it will be until you dip your toe in the water. Artificial Intelligence is not all about robots. It is also about simplifying things, saving time, and increasing productivity.  
So, instead of doing nothing, it would be best to consider investing in AI ideas. Below are the top 40 AI business ideas you can start with and make a profit.

50+ Best AI Business Ideas  
1. AI-based Photo Editing Apps
Image editing tools are required to get the best image possible and the output we imagined. But these tools can take hours. Therefore, AI-based editing apps like MealSurfers are looked upon to speed up the editing process and make editing possible for even novice users. So, if you want to get started with an AI-based photo editing app development and like this business idea, contact us to learn how to get an AI-based crafted for you.  
2. AI-Based Writing Tool 
We all read content online, but where does it come from? Indeed, humans write it, but producing content daily in mass quantity and quality for different mediums like social media posts, emails, or texts can be overwhelming. Hence, you can use AI-based writing tools to take this load off. They will help optimize the work and make life easier and more productive by including. An AI writing software without investing much time will help create content based on user intent and to promote. If you are interested in this best AI business ideas and are thinking of getting an AI writing tool designed, leave a comment or connect with us over chat.  
3. AI Marketing Agency 
When it comes to marketing, multiple challenges and difficulties are associated with market research, analyzing competitors' techniques, and increasing brand visibility. In such times an AI-powered marketing system can help the business grow and move towards being a profitable organization instead of one in losses. Due to this and several other reasons, AI- development and marketing service providers are in demand. 
4. Medical Equipment Business
Medical devices with Artificial Intelligence help medical professionals & promise to revolutionize the health care industry. They can be used to accurately and effectively diagnose and treat patients. Additionally, Artificial Intelligence can automate tasks, synthesize data from multiple sources, and point to trends. Hence, evaluating large amounts of data, monitoring treatment, and identifying a disease for patients who are at an increased risk for infection, complications, or adverse outcomes AI-based medical equipment business is an innovative idea.  
5. Advertising Software
AI is taking over the world at every level, and all major ad platforms are now working on end-to-end ad campaign management without human intervention. With AI-powered advertising agency software, you can be a part of this industry, identify and segment audiences, build ad-creative, improve performance, and optimize ad spending automatically in real-time at scale. the AI business ideas will give your brand a competitive advantage in digital advertising. 
6. Recruitment Business App
An unbiased recruitment process is always better than one influenced by personal choices. With AI-based recruitment apps, HR teams can source, screen, and hire the best applicants for their businesses. Moreover, AI recruiting is the best to find potential vendors.
7. AI-powered Cybersecurity App
The increasing number of cyberattacks gives nightmares to business leaders. Hence, they always look for solutions that protect them against viruses, malware, and other threats. An AI-based app will provide a robust analysis of upcoming cyber-attack and threats. Moreover, it will learn from attacks, making it easy to respond in real time to attackers. Therefore, investing in AI-driven cybersecurity apps is a great way to enter the security marketplace.  
8. Healthcare Startup
With no way to interpret when the pandemic or epidemic hits us next, adding AI to Healthcare will help us stand tall in unforeseen situations. Applications and businesses based on Artificial Intelligence will make diagnosing and treating patients with adverse health conditions easy. Also, as AI is more effective than humans, healthcare workers can provide better preventive care, accurate diagnoses, and treatment plans. The new generation of AI algorithms is already outperforming radiologists. Therefore, if you dream of helping humankind, nothing can be better than AI-based healthcare app development. Indeed, AI cannot replace humans but can prove beneficial in assisting in broad medical processes.  
9. Energy Saving Application
Another best AI business ideas that an emerging startup or an already established business can invest in is creating an AI-based application that focuses on reducing costs and saving energy. This AI application can predict the energy load before you put up the plant. This will help reduce waste and cost, helping you earn profits in more ways than you can think. 
10. Supply Chain And Logistics Application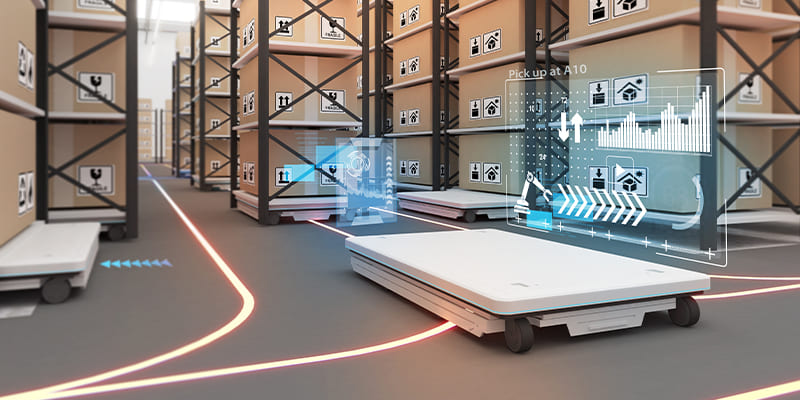 To finish work, everyone looks for that 25th hour. But we all know no one has it, which is why it's up to us to use it in the best possible manner. This is why Artificial Intelligence-based apps are widely used to address the complexities and challenges of fuel and transportation costs in supply management and logistics. With the help of these apps, mass data can be easily interpreted and analyzed. These intelligent systems will help in efficient planning and management. Also, they will help reduce warehouse staffing and additional cost and will help save time.  
11. AI-based Entertainment Startup
No industry, including the glamorous entertainment world, is untouched by Artificial Intelligence. Voice and image recognition apps are already making a big difference. These applications will help you make money through intelligent voice assistants and similar apps integrated with Machine Learning and AI.  
Also Read: Top 9 Image Recognition Apps in 2021
12. IT Services
AI in IT determines what our future will be. AI has not only changed traditional computing methods but is also transforming each industry it touches. Using AI-powered IT services, you can finish massive tasks in lesser time and can accelerate problem resolution. This business idea will give you a tremendous breakthrough and prove beneficial for challenging to manage and diverse IT landscape. 
13. AI-Driven E-learnings
To date, most learning programs work on the traditional pattern of long-form content, which overwhelms people and leaves them without adequate learning experience. Therefore, personalized learning is considered the right path to move ahead, and AI-based eLearning software help in this, as we can use them to customize content. So, instead of offering content that fits all, we can provide an adaptive learning approach through AI business ideas.  
Also Read: How to Develop an AI-based Learning Management System?
14. Fintech Startup
These days, in almost every industry, AI is being integrated. To grow, analyze data, and determine whether or not the customer is interested in their services, companies are taking the help of AI. Therefore, if you are looking to start a fintech company using Artificial Intelligence will help your Startup flourish and grow leaps and bounds.  As AI in finance can broaden your approach towards your goals.
15. AI-Based Retail Startup
The retail industry constantly changes, and the sector depends on data to make crucial decisions. Therefore, an AI-based app that helps manage data and show the impact of constant changes on sales is required to survive in this intensely competitive and fast-changing environment filled with different customer shopping habits.  
16. Home Manager Startup
Home startup apps simplify home automation, and an AI-based home manager app is perfect. The app will be able to mimic human abilities, allowing homeowners to manage their gears from anywhere, anytime. That said, by sitting afar, they can know what's happening in their homes. These AI-infused home automation apps have a bright future and great potential & that's why investing in AI-based home startup apps is a good idea.  
17. Subscription-Based Delivery App
Artificial Intelligence is rapidly revolutionizing the eCommerce industry, primarily subscriptions. Still, business owners have difficulty understanding new tech. Therefore, if you give them an app that helps align with their subscription business model, it will be a great thing to do. This best business model will help create an ongoing relationship with their customer and generate access to more customer data.  
18. AI-Driven Stock Matcher
As Artificial Intelligence develops, it is making a mark in financial markets. Yet many wonder how AI can help in stock trading. This is why you will emerge victorious if you start with best AI business ideas. Retail traders currently use stock trading software but rely on instincts and tips. But with an AI-driven stock market, you can easily choose your trading style, can quickly spot changes in trends, eliminate human emotions during decision making and save yourself from making wrong choices. 
Caution: The stock market is volatile and unpredictable.  
Also Read: How to Develop a Stock Trading App Like Investr?
19. AI Architectural Design Startup
AI is not limited to voice recognition or robotics. You can use this versatile branch of computer science in areas where human intelligence is required. With AI business ideas, you can radically change the workflow within architectural fields. AI can help in space organization, planning, creating layouts, and developing floor plans that account for functionality and style.  
20. AI Wealth Builder
For growing financial wealth, online trading is one of the profitable businesses. The system works without an intermediary, which means you enjoy getting the maximum profits from your investments. Instead of leaving your money to the whims of individual biases, with an AI-based wealth builder, you can bypass guesswork and biases and build a sound financial life with abundance. 
21. AI Product Curation Platform
Without investing a ton of money and time, if you want to strengthen your product's online presence, then an AI-driven product curation app can help. The app can quickly sift through the content pool, track what people are interested in and click on, customize products and send emails and newsletters to each subscriber informing them about the product created only for them. This will place your brand as an expert on topics that matter to the users.  
22. AI-based Audio Search
As AI-based voice assistant change things around us, the demand for AI-based audio search apps is also increasing. Now more than ever, people are turning to speech technologies, and last year, over 1 million people in the US used voice assistants. This shows people's continuous growing interest in voice recognition apps. This is why considering AI-based audio search as a business idea is the right approach to move forward with.  
Also Read: How to Develop a Voice Recognition App?
23. AI Personalized Learning System
As we are nearing 2023, the use of AI is rising and set to revolutionize things, especially in the learning arena. Artificial Intelligence will provide personalized learning abilities and make jobs much more fun by automating time-consuming tasks. Moreover, AI business ideas will help close the skills gaps, uncover learning impact, and proactively support learners. So, why keep yourself occupied with an extra workload when you can automate it? If you believe and want to achieve better results in a short period, an AI-based personalized learning system seems to be the answer. 
24. On-device Recognition Tool
AI business ideas is a game changer. With its help, you can automate and improve business processes, customer experiences, and daily activities. The on-device recognition tool will help in real-time voice transcription and language translation. Also, it will increase speed and low latency due to back-and-forth communication with the cloud.  
25. AI Butler Business
Are you interested in food and love cooking? You can surely start with an AI butler business. Creating it requires much effort, dedication, and, most importantly, passion, but it is not impossible. The best AI business ideas with expertise will bring all your favorite foods to one place.  

26. AI-based Personal Shopping Business
Delivering personalized products that cater to buyers' needs will help retailers attract customers. An AI-based app is the best way to achieve this. Using it, you can provide affordable products that customers will love. So, what are you waiting for? Using this excellent AI business idea, step into the world of online shopping portals with an AI assistant.  
27. AI-Powered Copyright Infringement Software
AI is already being used to generate music, local news articles, and draw portraits. Now, you can use it to identify copyright infringement.  
28. Process Automation Software
Automated workflow is the key to enhancing user experience and productivity. As not many companies know about process workflow, providing an AI-driven app that touches this topic will give you an extra edge, and the companies who use it will get the upper hand over competitors.  
29. AI-Based Automated Data Entry
Automated data entry is the buzzword used in the business world to save costs invested in manual data entry. If you find yourself stuck in the manual world, it's time to let automation take over and handle the task. An automated data entry app powered by AI will help streamline invoice processing, generate sales orders, and quickly full-time intensive workflow. You can easily integrate computerized data entry with business solutions like Salesforce, Microsoft solutions, and Google Apps.  
30. AI-based Chatbot
Whether a startup or an established business organization, an AI based chatbot always comes in handy. It can create credibility, interact with potential and existing users and answer queries. The pre-set answers help set a tone like a natural human conversation, making you stand out in this competitive environment. Therefore, creating AI chatbots is a good option for profitable and popular AI business ideas.
Also Read: How to Choose the Right AI-based Chatbot for Your Business? 
31. AI-Driven Drilling Advisory System
An intelligent AI-powered drilling optimization application will perform better than commercial machines. With its help, you can mitigate drilling dysfunction and improve performance. Also, you can achieve goals in less time without sacrificing the safety of laborers and investing a considerable amount by adopting AI drilling optimization and automation services. 
32. Personalized Product Services
Do you have a brand which is lacking visibility? You can increase customer engagement, boost sales, and improve customer loyalty and conversion rate using an AI-based personalization app. AI-driver personalizes product service app will help customize your website, content, and brand, which will help reach out to more users in lesser time. 
33. AI-enabled Calorie Tracking App
As time is changing, so are the people. Now you will come across more fitness-focused and health-conscious people. The best way to cater to these people is to provide them with an AI-powered calorie tracking app that will help lay a positive impact on their health. Healthify, the leading health and fitness app in India, uses Ria, an AI-powered nutritionist, while Calorie Mama uses AI and image classification techniques to calculate calories. If you want to be a part of this industry, this AI business idea is good as a starter.  
Also Read: How to Make a Calorie Tracking App?
34. Cost Tracking App
Today everyone wants to keep track of their spending and savings and manage their finances. If you want to get an AI-based expense management app developed, this is the right time for you. With everyone with a smartphone today making digital payments, an AI-based cost-tracking app will help create a budget, track expenses, and save money.  
35. Tax Written Service
Are you wondering how AI can help in this area? Well, don't get surprised by using AI-based tax-written services that can perform human-like tasks; you can file taxes prominently and accurately. Also, an Artificial Intelligence driven app can readily identify unidentifiable potential tax fraud cases. European countries, for instance, use this technology to identify such tax frauds and can detect 60 out of 100 fake invoicing cases. So, if you are from the finance fraternity, AI business ideas will help you do wonders.  
36. Price Tracking App
You must understand that everyone likes to buy things at the lowest price possible. This AI-based idea works on that concept only. It will help users track pricing from all the sites for the products they wish to buy, allowing them to decide on the best option.  
This is one of the Startup's most enticing and promising AI-based business ideas.  
37. AI-based News App
One of the best AI app ideas is a new mobile app driven by powerful AI and ML technologies. This app will garner insights into the reader's preferences and display the news based on their choice. These insights will also help you tailor the ads and promotions accordingly, increasing your profits. For instance, if someone prefers sports news, you can send out personalized notifications making them choose your app.   
38. AI-based language learning app
An AI-based language learning app can open your doorways for better business success. Professionals and students leverage globalization to access top opportunities, regardless of where they have spent their lives. They are always looking to add new things to their skills or learn new languages to adapt to the location they switch to. AI-based language learning apps can help you get ahead of the competition by taking conventional features to the next level. For instance, a person exploring France can receive a personalized notification from your app.  
39. AI-based Fitness App
COVID-19 has made people more fitness conscious. They are always exploring more ways to get fit and stay healthy. You can help such fitness enthusiasts with an AI fitness app. These apps will consider your vitals such as height, weight, fitness goals, etc. Once the required data is collected, they can suggest the best fitness regimen, diet chart, exercises, etc. They can also monitor your movements and postures during activities to guide you.  
40. AI-based Storage Cleaner App
The younger generation today loves to take pictures, videos, applications, and more now and then. All this keeps adding to the phone's storage. Although mobile phone brands are adding more to the space, the addition of junk keeps going on. An AI-based storage cleaner app can be a problem solver for them. It can analyze blurred pictures, junk files, duplicate files, etc., and delete the same to create more space.  
41. AI-based Budget Tracking and Business Planning App
Businesses need to stay on top of the game about their financial planning. Manual financial tracking fails here, but an AI-based cost planner app is the answer. They can scan the documents, and the app will be able to access all important details in seconds. It can also create charts about the expenses, generate reports and even help plan ahead.  
42. AI-based Meal Planner App
The AI meal planner app helps users to prepare the right meal plans that align with their nutritional requirements and fitness goals. Users can enter their body vitals along with food preferences. The app will come up with various meals to help the users plan.  
43. AI-based Hospital Tracker and Medication App
This application is a big breather for patients and doctors alike. The users can enter the symptoms they have been facing, and the AI-based app will use it to come up with the diseases the person may be suffering from. It can also help them keep track of these symptoms and can even direct them to the medical facilities that can treat them the best.  
44. AI-powered Storytelling App
The power of stories smites people. However, not everyone can read novels or stories from books. Or, sometimes, they feel obligated to read them online, but no one loves to stare at the screen for long. This is where your investment in AI-powered storytelling apps can help your target audience. Users can simply scan one page from the novel, and the AI app will discover the book itself. Once the user confirms, they can listen to the entire novel as a story.  
45. AI-based Market Prediction App for Businesses
The market is highly dynamic. To help you curb that, an AI-based marketing prediction app comes in. It will monitor the market details and functions over time to enable you to direct your investments in the right direction. For example, if you are in the eCommerce business, you can know what your buyers are looking for and, therefore, stock up your inventory to meet their demands. It can also enable you to find out what's not selling in the market and, therefore, make sure you don't invest in something that doesn't pay.  
46. AI-based Homework Assistance App
This app will be a breather for students and a good investment for your business. AI-based homework assistance app allows students to upload their assignments. It then comes up with a series of videos and concepts that can help them do their assignment quickly. It also gives them quick ways to solve tricky problems.  
47. AI-powered dating app
Dating can be daunting. How about you enable your users to find their potential match easily? AI-based dating apps can collect information from their social profiles, other dating apps, etc. Once they have the right information, they can show them the matches they are more likely to align with. It will help you win more users and, of course, revenue.  
Also Read: Dating App Development – A Complete Guide
48. AI-powered video analytics Solution
Video analytics apps, when synced with CCTVs and powered by a robust AI tech stack, can help you strengthen the security system at your organization. It can scan the collected footage for potentially risky behavior and alert the authorities. Similarly, it can be deployed at the locations where a specific set of rules is to be followed and ensure that you receive an alert anytime an anomaly is detected.  
49. AI Real-time Traffic Video Analytics App
You can take the power of AI-based video analytics systems to the next level by investing in real-time traffic monitoring apps. These apps work in combination with CCTV cameras. They can scan the videos from the cameras installed at various locations and identify accidents, transportation issues, congestion, etc.  
50. AI-based Recommendation Engine
This kind of solution will act as an add-on to your existing systems and take their functionality to the next level. AI tracks and analyses your customers' online activities along with the stores they have visited. Therefore, when they visit your online shop, they are greeted with a series of products they are more likely to buy. Similarly, they can enhance the customer experience by suggesting products that most likely add value to current purchases. This improves the chances of conversion and therefore boosts the revenue.  
51. AI-Based Weather Forecast App
Someone who loves traveling will understand the pain of being greeted with different weather altogether. The problem becomes more gruesome if you are unprepared for it. Imagine landing in Canada with no preparation for cold weather at all. Bummer, isn't it? 
This is where a business model based on an AI-driven weather forecast app can help you gain popularity. It will allow users to prepare for their travel and assist them in making predictions for future days.  
52. AI-Based Jewelry Store App
The main purpose of the jewelry store is to buy, sell and evaluate the quality of jewelry and gemstones. AI-based jewelry app takes it to the next level by allowing customers to know more accurately and estimate the authenticity of the gems and jewelry. You will be able to give better information to the buyers, and the app can even help you analyze the gemstone photo to assess dimensions, size, color, and imperfections. 
53. AI-Based Sports App
Sports lovers will thank you for investing in an AI-based sports app. These apps can stay abreast of the team's performance and predict the outcomes of an ongoing match. It can also share live updates, match highlights, and even help players improve their performance with quantitative analysis.  
A mix of AR/ VR with AI can give new wings to your interior design business. This helps enable you to scan through the room and design its ambiance in a way that adds value to your services. You can even have a consumer-facing app for your furniture and interior decoration business. Users can leverage your app to see how particular products would look live on your property and make better decisions. This will also help you ensure maximum customer satisfaction with higher revenues.  
55. AI-based Matrimony App
This works similarly to dating apps. AI here helps you analyze specifics about your target audience. For instance, what kind of partner they are looking for, where they are more willing to settle, where they work, etc. They also analyze a person's social profile and find the best matches. While it is easier for people to make decisions this way, it also helps you increase the popularity of your match-making business.  
56. AI-Based Repairing App
No matter how much experience your technicians and mechanics are, there will always be a situation where they need expert support. This is where the AI-based repairing app comes in. It uses AR/ VR and AI/ ML to know what kind of problem is occurring in the vehicle. Users can scan the problematic area, and the app will compare it against the preset data to assist the workforce. 

Final Words
The above AI business ideas show how you can grow your business and build a startup from scratch. 
The idea of automation is no longer far-fetched, AI-powered systems are in full swing, and when used appropriately, they are helping business owners make a profit.  
This list of best AI business ideas will help your business flourish and become famous. You can choose whatever niche you want. Ensure that you select the right company to design the app for you.  
Get the Conversation Started!